06, 11, 2015
Posted By TheraCuisine
Comments Off

on Dairy & Egg Free French Toast (Vegan)
Dairy & Egg Free French Toast (Vegan)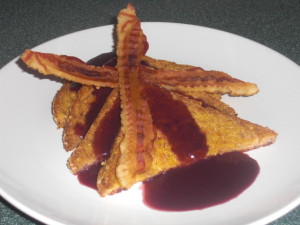 Dairy milk and eggs are swapped with almond milk and Bird's Custard Powder so those who are restricted from eating dairy and eggs can enjoy this classic breakfast comfort food. Instead of serving the French toast with typical pancake syrup swap the syrup with a tasty topping of Blackberry Puree to boost your daily intake of antioxidants, anti-inflammatory compounds, and vitamins.
Ingredients
French Toast:
1 cup Almond, Milk (Vanilla flavored), unsweetened
2 Tbls. Bird's Custard Powder (available in cans at many grocery stores)
1 tsp. Almond Extract
6 each 1 oz. slices of bread – dairy & egg free type, or gluten-free type, or sprouted (flourless) grain bread, or your favorite type sliced bread, etc.
1 Tbls. Almond oil, vegan margarine, vegetable shortening, or clarified butter
Blackberry Puree:
1 each Dried Vanilla Bean Pod, about 6 inches long
1 pound Blackberries, fresh, frozen, or canned
1 Tbls. Lemon Juice
½ cup Coconut palm sugar
Instructions
(French toast): In a small bowl combine the almond milk, custard powder and almond extract until the custard powder is dissolved into the liquids.
Lay the bread slices down flat in a shallow pan and pour half the milk mixture over the slices. Turn the slices over carefully and pour the remaining milk mixture to cover both sides. Let the bread soak in the liquid.
Meanwhile, on medium heat, in a non-stick skillet or pan, add the oil, margarine, shortening, or clarified butter.
Place the bread in the skillet and brown lightly; turn bread slices over and brown on the other side. Remove from skillet and cut each bread slice in half diagonally to create 12 half slices.
Serve hot and covered with Blackberry Puree.
Garnish with whole blackberries, toasted sliced almonds and (optional) whipped coconut cream.
(Blackberry Puree): Place the vanilla bean on your cutting board. Use a sharp paring knife to cut the bean in half lengthwise. Use the knife's tip to scrape the seeds from the vanilla bean and place the seeds and the bean pod halves into a small sauce pot. Add the berries, lemon juice and sugar and cook over medium heat, stirring until the berries thaw and the sugar is dissolved.
Raise the heat to medium-high and bring the mixture to a boil. Remove from heat; remove and discard the vanilla bean pod halves.
Place the mixture in a blender and puree until smooth. Place a coarse mesh sieve over a bowl and strain the mixture into the bowl. Press firmly on the solids with a rubber spatula to extract as much liquid as possible; discard the seeds and solids that remain.
Cover and refrigerate the strained puree until cold and store up to 3 days.
Notes
YIELD: 12 half slices French toast and 1-3/4 cup Blackberry Puree

Per Serving: 3 (half) slices sprouted grain bread French toast plus ¼ cup Puree Topping: 272 Calories, 5g Fat, 7g Protein 51g Carbohydrates, 8g Dietary Fiber, 0mg Cholesterol, 236mg Sodium