12, 04, 2014
Posted By TheraCuisine
Comments Off

on Tuna Wasabi Kabobs
Tuna Wasabi Kabob Recipe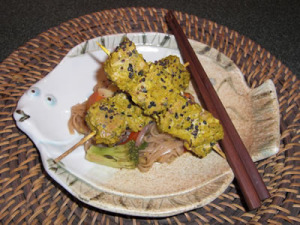 A snappy marinade of wasabi and mustard is basted over cubes of tuna and garnished with a sprinkling of black sesame and mustard seeds.
Ingredients
12 oz. Fresh Tuna Steaks, raw, cut into 3⁄4" cubes
1 Tbls. Wasabi Powder
1 Tbls. Water
1 Tbls. Dijon Mustard
1 Tbls. Fish Sauce
1 tsp. Turmeric
1 Tbls. Garlic, minced
1 tsp. Cilantro leaves, dried
1 Tbls. Grated Ginger root
2 tsp. Black sesame seeds
1 tsp. Mustard seeds (brown, yellow or white)
1⁄4 tsp. Fresh ground black pepper
Instructions
Pre-heat broiler.
Cut Tuna steaks into 3⁄4" chunks or cubes. Set aside.
In a small bowl, stir together the wasabi powder and water until the water is absorbed and becomes a paste.
Add the paste to a medium sized bowl add the mustard, fish sauce, turmeric, garlic, cilantro and ginger. Mix to blend all ingredients. Add the tuna chunks to the bowl and toss them in the wasabi mustard mixture until evenly coated. Place bowl in refrigerator and let tuna marinate for 15 or more minutes.
Meanwhile, in a small bowl combine sesame seeds, mustard seeds and pepper.
Remove tuna from refrigerator and thread chunks onto wooden or metal skewers. If using wooden skewers, pre-soak them in water for 30 minutes. Place skewers on a foil-lined cookie sheet. Scrape any remaining marinade paste from the bowl and pour it over the skewers. Sprinkle surface of kabobs with half the seed mixture.
Place cookie sheet on top rack of broiler and broil skewers for 3-5 minutes or until meat turns opaque but not charred. Remove sheet from oven, turn kabobs over so uncooked side is on top. Sprinkle uncooked surface with remaining half of seed mixture. Return kabobs to the oven and cook another 3-5 minutes or until meat is cooked to the internal doneness that you prefer but not long enough to become charred.
Notes
Tip: If using bamboo skewers, place a strip of foil over the bare ends of the skewer before placing them in the broiler
to prevent them
from burning.
Serving suggestion: Serve single kabobs as appetizers or serve in pairs as a main entrée served over a toss of seasoned Asian noodles and organic stir-fried vegetables. Garnish (optional) with pickled ginger strips and chopped scallions.
Nutrition Information
Calories:
155,
Fat:
6g,
Carbohydrates:
4g,
Sodium:
82mg,
Fiber:
1g,
Protein:
21g,
Cholesterol:
33mg