11, 14, 2014
Posted By TheraCuisine
Comments Off

on Diabetic-Friendly Breakfast Congee
Fruits & Vegetable Breakfast Congee Recipe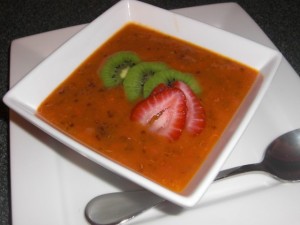 This nutritious and filling, high-fiber breakfast porridge is kind on the glycemic load and because it cooks overnight and is ready in the morning it easy also on a busy morning schedule, as well! Congee is a soupy, porridge-like dish made with rice and savory flavorings that is commonly eaten in Asia for breakfast or late supper. There are many creative possibilities for this dish and its leftovers. This recipe replaces the typical white rice with other whole grains, fruits, vegetable juices, and nuts, and is cooked overnight in a fruity broth. And if you're rushed for time, just ladle it into coffee mugs and slurp it down on the go.
Ingredients
2 cups Frozen Strawberries, unsweetened, thawed (or 2 cups coarsely
chopped fresh strawberries)
1 cup Carrot juice, canned, fresh or from the refrigerated juice isle
of your local market
3 each Kiwi fruits, peeled, coarsely chopped
1 cup Low sodium tomato juice, canned or fresh or from the
refrigerated juice isle of your local market
1 cup Pumpkin puree, canned (not pumpkin pie mix)
1 Tbls. Ground cinnamon
¼ cup Quinoa, uncooked, (red,- black or white variety)
⅓ cup Almond meal
¼ cup Whole grain Brown rice, long-grain, uncooked
½ cup Hulled Barley (not the pearled or quick-cooking variety)
5 cups Water
Instructions
Thaw frozen strawberries and peel and coarsely chop kiwis. Place them in a blender along with the carrot juice, tomato juice, pumpkin puree and cinnamon. Blend until mixture is smooth. Pour mixture into a heavy-bottomed large sauce or stock pot and add the remaining ingredients. Place pot on stove and heat to a boil.
Once mixture has come to a boil, reduce heat to lowest setting to bring mixture to a slow simmer. (Alternatively, after the mixture is brought to a boil on the stove top it can be transferred to a crock-pot or slow cooker set on low). Cover pot and simmer (or slow cook) overnight or for about 8 hours. In the morning, your congee should look like a loose, soupy, porridge.
Portion into bowls or coffee cups and enjoy. Refrigerate any leftovers.
Serve with your choice of topping such as fresh sliced kiwi and/or fresh sliced strawberries (if in season), a splash of almond milk, a dollop of Greek-style yogurt or a sprinkling of toasted hulled pumpkin seeds (pepitas). This pairs well with a hard-boiled egg or a slice of whole grain toast spread with nut butter.
Nutrition Information
Calories:
111,
Fat:
1g,
Carbohydrates:
22g,
Sodium:
16mg,
Fiber:
4g,
Protein:
4g,
Cholesterol:
0mg