06, 08, 2015
Posted By TheraCuisine
Comments Off

on Pumpkin Filled Almond Meal Crepe Blintz
Pumpkin Filled Almond Meal Crepe Blintz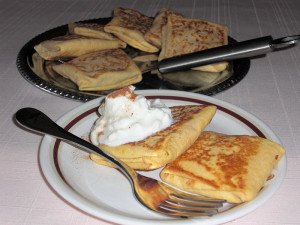 A fatty acid found in in higher amounts in whole fat dairy products rather than low-fat dairy products, called trans-palmitoleic acid has been found to help reduce the risk of developing Type 2 diabetes by as much as 62 percent when found in high levels in the blood. Consuming 3-5 servings of whole-fat dairy products daily would probably bring blood levels of this fatty acid up to the protective level. And studies have shown that pumpkin can help regenerate pancreatic cells in lab animals with Type 1 diabetes. The pancreas produces insulin in both animals and humans and a diet rich in pumpkin may help reduce the amount of supplementary insulin needed to manage healthy blood glucose levels. This recipe is designed to include both of these food types and has a low overall Glycemic load rating of 10.
Ingredients
(Crepe Batter):
½ cup Almond meal
½ cup Whole wheat flour
1 Tbls. Butter, melted, organic
1.5 cups No cholesterol liquid egg product or egg whites
2 cups Milk, whole fat, organic (preferably 100% grass fed)
(Filling):
1.5 cups Pumpkin puree, canned, organic
½ cup Ricotta cheese, whole milk, organic
2 Tbls. Maple syrup
1 tsp. Ground cinnamon
2 tsp. Dry ground ginger
1 tsp. Vanilla extract
1 tsp. Salt
¼ cup No cholesterol liquid egg product or egg whites
Instructions
(Batter): Combine the almond meal, whole wheat flour, melted butter, eggs and milk in a blender. Blend until smooth. Let batter rest about ½ hour.
Spray a non-stick or well-seasoned 6 or 8-inch sauté pan with non-stick cooking spray and heat over medium-high heat.
Pour about ¼ cup of crepe batter into pan. Swirl and rotate pan to cover it evenly with the batter. Cook batter until edges begin to brown. Carefully lift edge, turn crepe over and cook other side for about 10-20 seconds.
Remove crepe to plate to cool. Repeat process with remaining batter. Adjust batter if necessary – if it is too thick add a tablespoon or two more milk. If batter is too thin min in a tablespoon or two more flour.
Stack crepes between pieces of waxed paper and refrigerate for up to three days or freeze them in a zip lock freezer bag for up to one month.
(Filling): Combine the pumpkin, ricotta, syrup, spices, vanilla, salt and egg whites until well blended.
(Assembly): Place a crepe flat on a clean work surface. Place ⅛ to ¼ cup of the filling in the center of the crepe. Fold the opposite ends in and then roll up the crepe starting from an unfolded end to form a small filling pillow.
Pan sauté each blintz in a lightly greased skillet until golden on the outside and hot throughout.
Notes
Tip: If desired, serve with a dollop of yogurt or sour cream and a sprinkle of nutmeg or pie spice.

**Estimated Glycemic Load = 10
Nutrition Information
Calories:
205
Fat:
9g,
Carbohydrates:
20g,
Sodium:
417mg,
Fiber:
2g,
Protein:
13g,
Cholesterol:
24mg