11, 14, 2014
Posted By TheraCuisine
Comments Off

on Gluten-Free Breakfast Biscuit Pizza
Breakfast Pizza Recipe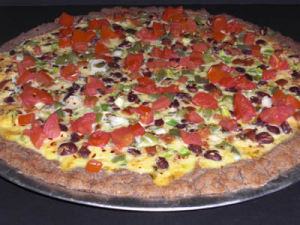 This biscuit-like pizza crust can be made ahead of time and frozen, then topped and cooked later at your last minute convenience. This recipe features Denver omelet-style toppings but you can substitute many other types of alternative breakfast combinations such as smoked salmon, cream cheese, chives, red onions, and capers (or) corned beef hash, chopped kale and creamed gravy (or) chopped bacon, crumbled sausage, chopped hard-boiled eggs and hot sauce. The possibilities are endless!
Ingredients
(Pizza Dough):
1cup Buckwheat flour
½ cup White rice Flour
½ cup Coconut flour
½ cup Almond meal
½ cup Quinoa flour
1 pkg. Yeast, 1.25 oz. package, active dry
2.5 cups Warm water (about 110° F, no hotter)
2 Tbls. Ground Flax seeds
½ tsp. Salt
2 Tbls. Olive oil
(Toppings):
6 whole Eggs, beaten
1 cup Cheddar cheese, low-fat, shredded
½ cup Diced ham
½ cup Chopped scallion
½ cup Diced green pepper
½ cup Diced tomatoes
½ cup Black beans, canned, drained
½ tsp. Red pepper flakes (optional)
Instructions
Pre-heat oven to 400 °F.
Combine the flours and salt together in a large bowl. In a separate smaller bowl stir gently stir together the yeast and warm water. Let liquid mixture sit undisturbed for 5-10 minutes to bloom then gently stir in flax seeds and olive oil. Add the wet yeast mixture to the dry ingredients and mix into a soft dough. Cover bowl with a clean kitchen towel and let dough rest for 15-20 minutes.
Note: (At this point, dough can be stored under refrigeration for up to 3 days. Wrap dough in plastic and refrigerate. When ready to cook, remove the dough from the refrigerator and allow it to come to room temperature, about 30 minutes. Proceed with next steps.
Spray or oil a 12-inch round pizza pan with at least a ½" tall rim (or) a 10 x 15-inch jelly roll pan with olive oil. Pour dough out into the prepared pan and using wet hands pat the dough out evenly to fit the pan.
Place pan in oven (without topping) and bake for 8-12 minutes. Remove from oven and let cool slightly.
Note: (At this point, cooked crust can be wrapped (un-topped) and placed in the freezer. When ready to cook, remove the dough from the freezer, thaw and top, or top while dough is still frozen. Bake until eggs cook solid and cheese melts (timing will vary from 15 – 30 minutes).
Carefully pour the beaten eggs into the pan. Evenly sprinkle remaining topping ingredients over the eggs. Return topped pizza to the oven and bake until eggs cook solid and cheese is melted for another 10-15 minutes.
Remove from oven and cut pizza into 12 slices or 12 squares and serve slices while they are still hot (however, this pizza can be eaten and enjoyed as a cold leftover, as well).
Nutrition Information
Calories:
224,
Fat:
9g,
Carbohydrates:
23g,
Sodium:
305mg,
Fiber:
5g,
Protein:
13g,
Cholesterol:
111mg