11, 14, 2014
Posted By TheraCuisine
Comments Off

on Joint-Soothing Smoothie
Cherry Smoothie Recipe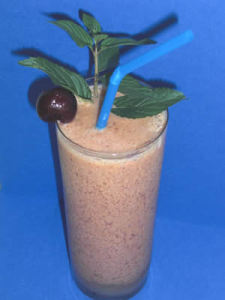 Cherries are a good source of anthocyanin's which provide antioxidant and anti-inflammatory properties that can help ease arthritis pain. Ginger and cinnamon also provide anti-inflammatory properties. And flax seeds contain Omega 3 fatty acids which help ease the symptoms of rheumatoid arthritis by lowering levels of inflammatory chemicals in the body that erode cartilage.
Ingredients
2 oz. Pitted cherries, frozen, unsweetened
1 each Pitted date
1 tsp. Sliced almonds
1 cup Vanilla almond milk, unsweetened, organic
½ tsp. Cinnamon
¼ tsp. Ground ginger powder
1 Tbls. Maple syrup
2 tsp. Flax seed, ground
½ tsp. Vanilla extract
1 cup Ice Cubes
Instructions
Place all ingredients in a blender for a couple of minutes until smooth and creamy.
Refrigerate until ready to serve.
Pour into a tall thin ice-tea glass and serve with a straw or (optional) garnish by hanging a cherry on the rim and topping with a mint sprig.
Nutrition Information
Calories:
190,
Fat:
7g,
Carbohydrates:
32g,
Sodium:
183mg,
Fiber:
5g,
Protein:
4g,
Cholesterol:
0mg