Crispy, Spicy Mukimame Bean Snack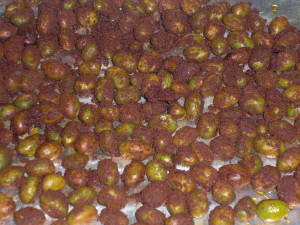 Mukimame are shelled immature soybeans. You can buy them frozen in many grocery stores. Roasting them until they are crisp and then seasoning them with these ingredients produces a delicious, spicy and tangy, snack that is low on the glycemic index and therefore a great option for pre-diabetics, type 1 and type 2 diabetics.
Ingredients
10 oz. Mukimame, organic, about 2 cups
2 Tbls. Red palm oil, organic, melted
½ tsp. Salt
2 Tbls. Ground cinnamon
½ tsp. Cayenne pepper
1 Tbls. Pomegranate powder
Instructions
Preheat oven to 425° F.
Place mukimame in a mixing bowl and toss with oil and salt until evenly coated. Pour mukimame out onto a baking sheet and bake, stirring occasionally until mukimame is crisp and starting to brown, about 30 minutes.
Meanwhile place remaining ingredients in the mixing bowl.
Once the mukimame are crisp, remove baking pan from oven and pour out into the mixing bowl. Using a spoon toss and stir the mukimame in the seasonings until evenly coated. Spread mixture back out onto the baking sheet and allow to cool.
Store at room temperature in an airtight container for 3-5 days.
Notes
YIELD: 1.5 cups or 6 (1/4 cup) servings

PER SERVING: 118 Calories; 7g Fat; 6g Protein; 7g Carbohydrate; 5g Dietary Fiber; 0mg Cholesterol; 184mg Sodium. (Estimated Glycemic Load = 4)