06, 11, 2015
Posted By TheraCuisine
Comments Off

on Frozen Cantaloupe with Creamy Fire & Ice Topping
Frozen Cantaloupe with Creamy Fire & Ice Topping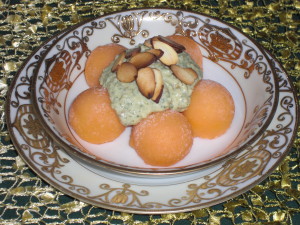 This is a perfect dessert for a hot summer's evening and it provides a great source of the electrolyte and fluid- balancing mineral; potassium. This recipe also offers an excellent source of Vitamins A & C, antioxidants, and anti-inflammatory compounds. Furthermore, frozen melon balls are delicious in iced tea, wine spritzers or cocktails, and are a handy ingredient for making a quick fruit smoothie or slushy.
Ingredients
1 whole Cantaloupe, washed, dried, cut in half, seeds removed, cut into melon balls or chunks
½ cup Mascarpone cheese
½ cup Plain yogurt
¼ cup Golden seedless raisins
½ oz. Mint leaves, rinsed, dried (about ½ cup chopped fresh leaves) or ⅛ cup dried leaves
¼ cup Crystallized ginger
1 oz. Jalapeno pepper, seeded and diced (about one small fresh jalapeno)
1 tsp. Almond extract
4 Tbls. Toasted almond slivers or slices
Instructions
(Melon balls): Wash outside of cantaloupe with clean soapy water and a vegetable brush, rinse well, and dry. Using a clean knife and cutting board cut the melon in half and use a clean spoon to scoop out the seeds in the center cavities of both halves. Use a melon-baller tool and make balls, or you can just cut the orange flesh into bite-sized chunks. Note: One average sized melon will yield about 25 melon balls. Place balls on a parchment-lined cookie sheet and place sheet in the freezer until balls are almost frozen. For longer-time storage, allow the balls to freeze solid then pack them into zip-lock type freezer bags with as much air removed as possible, or vacuum pack them using a Food Saver machine and bags.
(Topping): Meanwhile, mascarpone, yogurt, raisins, mint, crystallized ginger, jalapeno and almond extract into a blender. Blend mixture until pureed smooth. Pour into a container with a grip-tight lid and refrigerate until ready to serve.
(To Serve): Remove frozen cantaloupe balls from freezer and if they are frozen solid allow them to thaw a little (frozen melon balls are best when consumed just slightly softened but still frosty, when fully thawed they will become watery and mushy). Place 5-6 melon balls per serving into martini glasses, stemmed ice cream sundae dishes, or small dessert bowls. Top melon balls with equal amounts of creamy topping and garnish with a sprinkling of toasted almonds and (optional) a mint sprig.
Notes
PER SERVING: 234 Calories; 12g Fat; 5g Protein; 28g Carbohydrate; 2g Dietary Fiber; 23mg Cholesterol; 40mg Sodium.