Sun-Dried Tomato & Smoked Almond Pesto Sauce
Serves:
1 Cup (or eight ⅛ cup servings)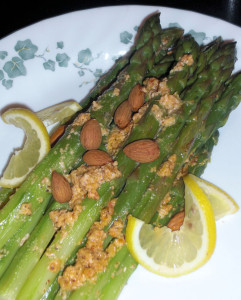 This sauce has a smoky and lemony flavor that is great for mixing with pasta or drizzling on vegetables, potatoes, seafood, soups or rice.
Ingredients
½ cup Smoked dry roasted almonds (or) homemade soaked, sprouted, dehydrated nuts
¼ cup Lemon juice, fresh
¼ cup Parmesan cheese, grated (preferably organic)
1-1/4 tsp. Minced garlic
⅛ cup Sun-dried tomato paste (preferably organic)
1 Tbls. Dried Holy Basil flakes (Tulsi) or 3 Tbls. fresh chopped Holy Basil* (preferably organic)
½ cup Olive oil, organic, cold pressed, extra virgin (preferably unfiltered)
Instructions
Process all ingredients (except oil) in a food processor with a metal blade or in a blender until smooth.
Slowly drizzle oil into the mixture while machine is running until all is poured and mixture has emulsified.
Transfer mixture to a small container with a lid, refrigerate.