Hot Bedtime Beverage, Tart Cherry-Vanilla Decaf Tea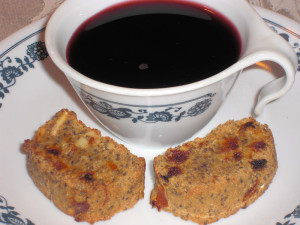 Tart cherries - especially the Montmorency variety, are a very good food source of melatonin. Melatonin is a hormone produced in the pineal gland of the brain that helps regulate your sleep cycles. Drinking this tasty beverage before going to bed will help boost your melatonin level and will thereby help condition your body to more easily fall asleep.
Ingredients
¼ tsp. Ground cinnamon
1 tsp. Maple syrup
⅛ cup Organic dried tart cherries, unsweetened
½ cup Boiling water
1 bag Decaf Madagascar Vanilla Rooibos Tea (Celestial Seasonings)
½ cup Tart Cherry Juice, organic
¼ tsp. Vanilla extract
Instructions
In a coffee mug, stir the cinnamon and maple syrup together. Add the dried cherries. Carefully pour the boiling water over the cherries and then add the tea bag.
Let tea bag infuse and cherries plump for 1-3 minutes.
Add cherry juice and the vanilla extract, stir.
Enjoy while still warm and then have a good night's sleep!
Notes
Per Serving: 152 Calories, trace fat, 1g Protein, 37g Carbohydrates, 1g Dietary Fiber, 0mg Cholesterol, 17mg Sodium