Blender Beverage for Eye Health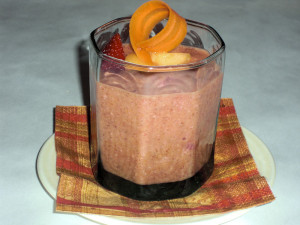 The ingredients in this recipe are all helpful with eye health because they contain vitamins such as A, C, E, and carotenoids such as Lutine and Zeaxantihin. Cantaloupe is a rich source of provitamin A and it actually contains more beta carotene than oranges. Strawberries are among the top of the scale for fruits that contain vitamin C. Almonds contain vitamin E – a powerful antioxidant. Flax is rich in omega 3 fatty acids and the juices are another source of those wonderful carotenoids. So when you drink this up at breakfast (or anytime during the day) you will be on your way towards lowering the risk of eye-related conditions such as macular degeneration, cataract formation, and night blindness. What a bright "EYE-deal" to fill up your glass with this tasty beverage to help support your vision!
Ingredients
1 cup Cantaloupe chunks
1cup Strawberries (about 2.5 ounces or 4-6 strawberries)
2 Tbls. Flax meal (ground flaxseeds) Spectrum Organic Ground Flaxseeds, 14 oz. bag
2 Tbls. Sliced almonds
1 cup Orange juice
½ cup Carrot juice
2 cup Ice Cubes (optional)
Instructions
Place all ingredients in a blender and whirl until smooth and a bright blush in color.
Pour into serving glasses and garnish as desired.
Notes
PER SERVING:
109 Calories; 4g Fat; 3g Protein; 17g Carbohydrate; 3g Dietary Fiber; 0mg
Sildenafil
; 18mg Sodium.