06, 08, 2015
Posted By TheraCuisine
Comments Off

on Swedish Meatballs with Non-Dairy Creamy Dill Sauce
Swedish Meatballs with Non-Dairy Creamy Dill Sauce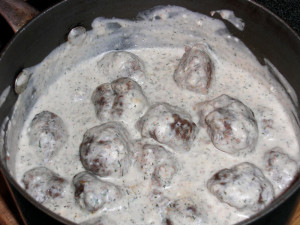 This is a creamy dairy-free recipe for those who cannot digest lactose.
Ingredients
(Meatballs):
1 lb. Ground beef, 100% grass fed, organic, 95% lean
¼ cup Ground Flax seeds (flax meal)
½ cup Mashed Potatoes
¼ cup Minced onion
1 large Egg or liquid egg substitute
¼ tsp. Dry mustard
½ tsp. Salt
¼ tsp Ground black pepper
¼ tsp. Ground allspice
¼ tsp. Ground nutmeg
(Sauce):
1 Tbls. Almond oil
1 Tbls. All-purpose flour
1 cup Almond milk, coconut milk, or other non-dairy milk substitute
½ cup Non-dairy cream cheese style spread, plain, (such as Daiya or Tofutti brands)
1 tsp. Dill weed
½ tsp. Nutmeg
¼ tsp. Salt
¼ tsp. Ground white pepper
Instructions
(Meatballs): Preheat oven to 450°F. Line a rimmed cookie sheet with non-stick foil.
Combine ground beef, flax, mashed potatoes, onion, egg, dry mustard, salt, pepper, allspice and nutmeg until well blended. Form mixture into 1-inch balls. Place balls on cookie sheet so they are not touching each other. Bake for 20-25 minutes or until cooked through to the center. Remove from oven and set aside.
(Sauce): Meanwhile, heat a sauce pot on medium heat and then add the oil and flour. Stir and cook for 2-3 minutes. Whisk in the almond milk a little at a time while stirring briskly to minimize lumps. Once all the almond milk is added reduce the heat to simmer for 3-5 minutes or until mixture comes to a boil then stir in the cream cheese substitute and seasonings and continue stirring until all the spread has melted and the sauce is smooth. Adjust seasonings to taste.
Fold the cooked meatballs into the sauce and transfer mixture to a serving platter.
Nutrition Information
Calories:
307
Fat:
10g,
Carbohydrates:
7g,
Sodium:
436mg
Fiber:
2g,
Protein:
10g,
Cholesterol:
56mg