06, 08, 2015
Posted By TheraCuisine
Comments Off

on Sea Puppies
Sea Puppies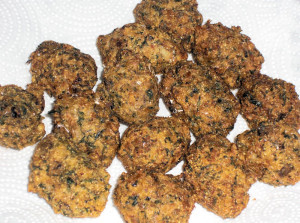 These addicting hush puppy-type fritters contain minced sardines to boost extra vitamin D and calcium to any meal. Sprinkle these with balsamic vinegar to really bring out all the flavors of the seasonings and serve them with a cup of "Chilled Cucumber, Cashew, and Mukimame Soup" for a calcium-rich first coarse before a light summer supper at the beach.
Ingredients
½ cup Buttermilk
½ cup Onion, minced (about 2 oz.)
1 large Egg
1 cup Cornmeal, whole-grain, organic
¼ cup All-purpose flour
4 Tbls. Dried parsley flakes
1 tsp. Ground thyme
1 Tbls. Paprika
1 tsp. Garlic powder
½ tsp. Baking powder
½ tsp. Red pepper flakes
1 tsp. Dried mustard
½ tsp. Salt
3 oz. Canned sardines (about 14-16 fish)
1 Qt. Organic Canola oil (for frying the sea puppies)
Instructions
In a deep heavy-bottomed pot, heat the oil to 375ºF. In a separate small bowl whisk together the buttermilk, egg and onion. In a medium bowl; dry ingredients. Drain and mince the sardines.
Stir wet ingredients into dry; stirring to mix well but do not overbeat. Fold minced sardines into the batter.
Drop one teaspoon at a time into the hot oil. Fry until the hush puppies will turn golden brown and float to the top surface of the oil. Remove from oil with a slotted spoon and drain on paper towels. Serve warm.
Notes
(20% Daily value for calcium based on a 2,000 calorie/day diet)
Nutrition Information
Calories:
233
Fat:
6g,
Carbohydrates:
35g,
Sodium:
503mg,
Fiber:
4g,
Protein:
12g,
Cholesterol:
84mg