06, 11, 2015
Posted By TheraCuisine
Comments Off

on Harissa-Seasoned Fish, Vegetable & Bean Supper
Harissa-Seasoned Fish, Vegetable & Bean Supper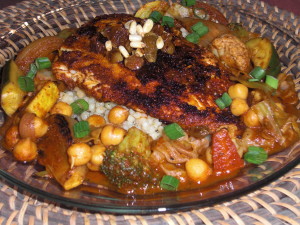 This nutrient-rich recipe offers a good dose of Folate, antioxidants and fish all of which are helpful in lowering the risk of stroke. A Harvard study showed that adults eating omega 3 rich fish 1-4 times per week lowered their risk of stroke by 27%.
Ingredients
7 Tbls. Harissa spice rub blend (divided)
1.5 lbs. Fish filets or steaks such as sea bass, halibut, or cod (about six 4 oz. filets)
1 small Onion, organic, skin removed, cut into wedges
6 oz. Mixed fresh organic vegetables in season such as baby carrots, cauliflower, parsnips, rutabaga, broccoli, fennel (cut into ½" inch chunks), about 1-1/2 cups
8 oz. Fresh organic cabbage, cut into chunks (about ½ small head)
1 med. Zucchini squash, organic (cut into ½" inch chunks)
1 med. Summer squash, organic or pumpkin flesh (cut into ½" chunks)
1 Tbls. Red Palm oil, organic
3 oz. Tomato paste, organic
1 cup Vegetable broth, organic
15 oz. can Garbanzo beans, organic, un-drained, preferably BPA-free can (about 1.75 cups)
Instructions
Sprinkle each fish liberally with about ⅔ to 1 tablespoon of the harissa spice rub blend and set aside (about 4 tablespoon total).
Place onion wedges, mixed vegetables and cabbage chunks in a steamer basket and place basket in a pot filled with about 1-1/2" inches of water so the basket stands or hangs above the top surface of the water (do not submerge the vegetables in the water). Cover pot and bring water to a boil to steam vegetables until they are tender but still slightly crisp (about 8-10 minutes).
Meanwhile, place red palm oil in a hot heavy-bottomed skillet. Add seasoned fish filets (seasoned side down) and sauté fish on medium-high heat until the seasonings begin to blacken and fish is starting to turn opaque around the edges (about 4 minutes). Flip filets to other side and continue to sauté until fish is cooked all the way through (about another 4-5 minutes). Remove fish from pan to a covered platter and reserve.
Place the onion wedges in the emptied skillet and cook them until they brown on the cut sides; add the squash to the skillet and cover. Reduce heat to medium and cook the onions and squash, stirring occasionally until the squash chunks soften. Add the rest of the steamed vegetables to the skillet.
In a separate bowl whisk together the remaining harissa spice rub, tomato paste and vegetable broth until well combined. Pour mixture over the vegetables in the skillet and then add the garbanzo beans and their liquid. Heat mixture until it begins to boil. Reduce heat to simmer for another 5-7 minutes.
Serve vegetable mixture topped with reserved sautéed harissa-seasoned fish filets.
Notes
Optional serving suggestion: Place a pile of couscous in the center of each serving plate. Place a portion of fish over the couscous. Arrange vegetables around the outer perimeter of plates. Sprinkle plates with a garnish of chopped scallions, toasted pine nuts and golden raisins.

Yield: 6 servings

Per Serving: (6 serving portion) 280 Calories, 7g Fat, 28g Protein, 28g Carbohydrates, 8g Dietary Fiber, 47mg Cholesterol, 619mg Sodium