Caldo Verde Soup with Salmon Linguica Sausage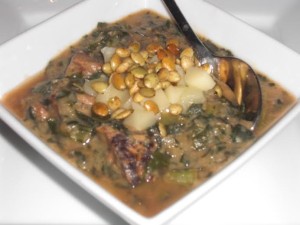 Caldo Verde is a traditional Portuguese soup often served during social gatherings. It is made with dark leafy greens, potatoes and a Portuguese-type sausage called Linguica (pronounced Linn-gwuee-sa). My version of this classic dish is therapeutic for soothing female hormone-related discomforts by providing a rich source of nutrients such as calcium (from the greens and cheese), vitamin D (in the salmon, greens and cheese), B-vitamins (from the salmon and greens), fiber (from the veggies and seeds), magnesium (from the pepita seeds), vitamin A (from sweet potatoes) and zinc (from the pumpkin seeds).
Ingredients
Garlic, crushed or minced (Emperor's Kitchen Organic Chopped Garlic)
Chopped onions
Water
Sweet potatoes, peeled and cubed
Frozen chopped collard greens, or kale
Chef Kelly's Salmon Linguica-flavored sausage patties, (about six and a half cooked patties)
Manchego cheese (A Spanish type cheese made with sheep's milk)
Pumpkin kernels (pepita seeds) (Woodstock Organic Pumpkin Seeds)
Instructions
Heat a large pot over medium high heat and add oil, onions and garlic and sauté, stirring frequently until the onions are translucent and soft, about 3-4 minutes.
Add water and cubed sweet potatoes and bring mixture to a gentle boil and cook until potatoes are soft and mushy.
Meanwhile, cook sausage patties per recipe and then dice into small pieces.
Remove the pot from the stove and remove the potatoes from the pot using a slotted spoon or skimmer, mash them in a separate bowl using a potato masher or hand immersion blender and then return them to the pot.
Return the pot back on the stove then add the sausage slices and kale or collard greens. Bring mixture to a boil then reduce heat and simmer uncovered for about 10 minutes or until the kale is tender. Adjust seasoning with salt and pepper (if desired).
Serve hot in large soup bowls and garnish with cubes of Manchego cheese and pepita seeds (pumpkin seed kernels).
Notes
Per Serving: 339 Calories; 16g Fat; 25g Protein; 25g Carbohydrate; 6g Dietary Fiber; 58mg Cholesterol; 378mg Sodium.