Anti-Inflammatory Vindaloo Recipe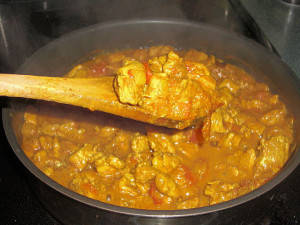 Vindaloo is a spicy Indian stew that is found in just about every Indian restaurant menu. It is based primarily of a curry-mix of spices, chilies, vinegar and *Tamarind. The pork in this dish can be substituted with chicken, beef or lamb. Serve this stew with rice, whole wheat Naan or other type of flat bread. For a garnish (optional) sprinkle with chopped pistachio nuts, shredded unsweetened coconut, chopped fresh cilantro, chopped pineapple, and sliced scallions.
Ingredients
1.5 lbs. Boneless Pork Chops, top loin (trimmed lean) also known as a New York pork chop
1 Tbls. Cumin, ground
1 Tbls. Garam Masala (Indian spice blend available in most supermarkets)
2 tsp. Ginger, raw, minced
2 tsp. Turmeric powder
2 tsp. Garlic powder
2 tsp. Coriander
1 tsp. Chili powder
1 tsp. Dry Mustard Powder
1 tsp. Black pepper, ground
½ tsp. Cayenne
½ cup Cider Vinegar
2 Tbls. Ghee or clarified butter
1 medium Onion, chopped
3 each Plum Tomatoes, chopped (or) 1 can (14.5 oz.) chopped tomatoes, drained
1.5 cups *Tamarind nectar, canned (or) 1 inch ball Tamarind pulp removed from fresh tamarind pods then dissolved in 1.5 cups warm water, seeped overnight then strained (or) mix 1 oz. of purchased Tamarind paste in 1.5 cups of warm water.
¼ tsp. Salt
Instructions
Cut meat into small bite-sized cubes.
In a medium bowl, combine the meat cubes with the cumin, garam masala, ginger, turmeric, garlic powder, coriander, chili powder, mustard powder, black pepper, cayenne and vinegar. Let meat marinate for about two hours or up to overnight in the refrigerator.
Heat a heavy bottomed skillet on medium heat, add the ghee and onions and cook onions while stirring occasionally and adding a few spoons of water from time-to-time (if necessary) to prevent scorching until the onions turn an even golden caramel (takes comprare cialis italy 15 minutes).
Add tomatoes and pork to the skillet and cook for about 8-10 minutes till the meat is no longer pink or raw in the center.
Pour in the tamarind nectar or broth and bring mixture to a boil, reduce heat to simmer and cook uncovered for 30 minutes or until the meat is soft and tender to the bite.
Add salt to taste, if desired.
Notes
*Tamarind is a fruit pod of trees grown throughout Asia, India and North Africa. The pulp surrounding the seeds is used to make a paste, syrup, nectar, or powder that is used as flavoring in a variety of recipes. For example, tamarind is an important ingredient used in making Worcestershire sauce. It has a sweet and sour taste similar to a blend of date, apricot, and lemon. Canned Tamarind nectar or fresh and dried Tamarind pods can be found in ethnic markets and many franchise grocery stores that feature Asian and Hispanic ingredient sections.
Nutrition Information
Calories:
333,
Fat:
15g,
Carbohydrates:
14g,
Sodium:
150mg,
Fiber:
2g,
Protein:
36g,
Cholesterol:
63mg