12, 10, 2014
Posted By TheraCuisine
Comments Off

on Diabetic Chocolate Chip Cookies
Chocolate Chip Cookie Recipe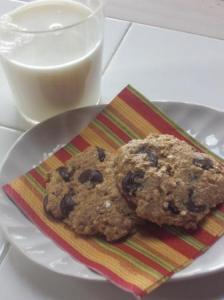 Most people need more magnesium in their diet, especially if they are diabetic. The dark chocolate, beans, and graham flour in this recipe are all good sources of this mineral and adding some chopped nuts or seeds such as chopped almonds, pecans or pumpkin seeds will help boost your magnesium intake even higher.
Ingredients
1 cup *Splenda Brown Sugar Blend or a combination of 1⁄2 cup *Lucuma Powder and ½ cup coconut palm sugar
3 Tbls. Smart Balance Blended Butter Sticks with Omega-3,
1 cup White beans, canned, drained, pureed in food processor
3 tsp. Vanilla extract (not imitation vanilla)
2 whole Large eggs, pasture raised, organic
2 cups Whole wheat graham flour
1 cup Rolled oats
1 tsp. Baking Powder
1⁄2 tsp. Salt
3⁄4 cup Hershey's Sugar-Free Chocolate Chips or Dark or
Softened or 3 Tablespoons walnut oil
bittersweet chocolate chips (60% cocoa or higher)
Instructions
Preheat oven to 375 ° F. Line two cookie sheets with silicon non-stick mats or non-stick foil.
Cream sugar blend and softened butter blend sticks and white bean puree until fluffy. Blend in the vanilla and eggs until well incorporated.
Combine flour, baking powder and salt then add to the creamed mixture, blend together well.
Stir in chocolate chips, (if desired add 1⁄2 cup chopped Brazil nuts). Chill dough for 15 to 30 minutes.
Drop dough by tablespoons, (about 1 ounce balls) onto prepared cookie sheets. Press dough out to 1⁄2 inch
thick disks (dough will not spread much during cooking) and bake for 10 -12 minutes or until bottoms begin to turn golden brown.
Remove from oven and cool cookies on wire rack.
Per 2-Cookie Serving and dark choc. chips: 187 Calories; 5g Fat; 5g Protein; 34g Carbohydrate; 4g Dietary Fiber; 29mg Cholesterol; 126mg Sodium.
Per 2-Cookie Serving and sugar free choc. Chips: 209 Calories; 5g Fat; 5g Protein; 32g Carbohydrate; 4g Dietary Fiber; 29mg Cholesterol; 126mg Sodium.
Notes
Tip: Be sure to use whole wheat graham flour which is different from other whole wheat flours in that the whole grain is not ground into a fine powder but rather, the bran and germ are coarsely ground producing a sweet nuttyflour that is grainy in texture and higher in dietary fiber than refined wheat flours that have the bran and the germ removed. The amount of butter used to make traditional chocolate chip cookies has been cut in this recipe with a secret ingredient – white bean puree! The beans boost the fiber, protein, and moisture content and reduce the amount of cholesterol, saturated fat and sodium – and you can't even taste that they are there. The amount of sugar is also reduced by using a blend of Splenda and brown sugar which lowers the amount of carbs. and calories. Comparatively, a serving of two each 1 oz. traditional-type chocolate chip cookies average around 270 calories, 15 grams of fat, 3 grams protein, 37 grams of carbohydrate, 1.5 grams of fiber and about 170 grams of sodium per 2 ounce cookie serving. *Splenda is an artificial sweetener that Chef Kelly suggests be eaten with caution. Lucuma powder is made from a

Peruvian fruit that is dried and ground into a powder. It's a low-glycemic sweetener that contains many nutrients including beta-carotene, iron, zinc, vitamin B3, calcium and protein and can be purchased online, at health-food stores and in high-end grocery stores. Coconut palm sugar granules are made from the nectar of the coconut palm tree flowers. It can also be found online, at health-food stores and in high-end grocery stores. It has a lower GI than table sugar but should still be eaten in moderation especially if you are diabetic because it does contain sugar.
Nutrition Information
Calories:
187,
Fat:
5g,
Carbohydrates:
34g,
Sodium:
126mg,
Cholesterol:
29mg