06, 11, 2015
Posted By TheraCuisine
Comments Off

on Blueberry-Barley Bread Bars
Blueberry-Barley Bread Bars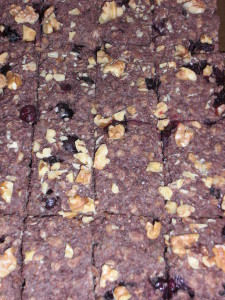 These bread bars are low on the glycemic load scale and therefore they are a good snack option for pre-diabetics and diabetics. They can also be served as a vegan meal accompaniment, as well. The texture is crumbly and rustic with a subtle hint of sweetness from the berries, an earthy chew from the barley flakes and nutty crunch from the walnuts. These bread bars pair nicely with wild game entrees such as pheasant, quail, wild boar, or elk, or serve them with a pot of vegan vegetable stew, chili or a crisp green salad.
Ingredients
¼ cup Chai seeds
¼ cup Ground flax seeds (flax meal)
1-1/4 cup Blueberry juice, 100% juice, (or) Pomegranate juice
1-1/2 cups Whole rolled barley (barley flakes)
½ cup Barley flour
½ cup Whole wheat pastry flour
1-3/4 tsp. Baking powder
2 tsp. Ground Cinnamon
1 tsp. Ground ginger
⅓ tsp. Salt
½ cup Dried wild blueberries
⅓ cup Walnut or almond oil
⅓ cup Chopped walnuts or almonds
Instructions
Line an 8 x 10 inch rectangular baking pan with non-stick foil or foil that has been greased. Pre-heat oven to 375°F.
In a mixing bowl, combine the chia seeds, ground flax and blueberry juice. Stir and set aside to thicken in texture to the consistency of thin syrup – about 5 minutes.
Meanwhile, combine barley flakes, barley flour, whole wheat flour, baking powder, cinnamon, ginger, salt and blueberries together in another mixing bowl.
Stir the oil into the chia seed mixture and then add the wet ingredients into the dry and best health care info all together until well combined.
Pour mixture into the prepared pan and smooth out evenly using a spatula. Sprinkle top with chopped nuts.
Bake for 25-30 minutes and the nuts are lightly browned. Remove from oven and cool on a wire rack. Once cool, invert pan onto a cutting board so that foil is on top. Remove and discard foil, cut into 16 bars.
Notes
PER SERVING: 159 Calories; 7g Fat; 3g Protein; 21g Carbohydrate; 4g Dietary Fiber; 0mg Cholesterol; 91mg Sodium.
(Glycemic load of one bar = 10)