12, 17, 2015

Category

Cold & Virus
Posted By TheraCuisine
Comments Off

on Tomato & Oyster Pasta Shells with Prosciutto Crisps
Tomato & Oyster Pasta Shells with Prosciutto Crisps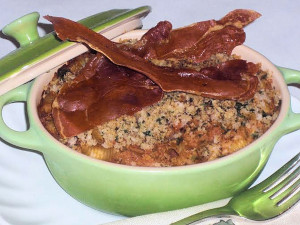 Zinc appears to help the immune system ward off colds and shorten the course of viruses. It increases the effectiveness of the white blood cells and T cells. And since oysters are very rich in zinc, this comforting pasta dish can provide an excellent dose of this essential trace element. For a gluten free option, use gluten-free pasta and gluten-free panko breadcrumbs.
Ingredients
Pasta:
2 Tbls. Olive Oil
½ cup Carrots, chopped small
½ cup Celery, chopped small
½ cup Onions, chopped small
½ cup Red bell pepper, chopped small
2 cups Tomato juice, low sodium, organic
1 cup Clam juice
6 oz. Pacific Oysters, fresh, raw (or)smoked
2 tsp. Old Bay Seasoning, low sodium blend
8 oz. Shell pasta, uncooked Ancient Harvest Organic Quinoa Pasta Shells, 8 oz. box
Crumb Topping:
Bacon Crisps:
1 oz. Prosciutto De Parma, cut paper thin
Instructions
Preheat oven to 350°F. Lightly grease four individual mini oval cocotte dishes, ramekins or mini casserole dishes.
(Pasta): In a heavy-bottomed skillet, heat the olive oil and sauté the carrots, celery, onions and bell pepper until the onions are soft and translucent. Remove from heat and reserve.
In a separate small sauce pot heat the tomato juice, clam juice, clams and Old Bay seasoning. Bring mixture to a boil; reduce heat and simmer until oysters are fully cooked, (about 4-5 minutes). Remove from heat and transfer mixture to a blender and blend until smooth.
Place the uncooked pasta shells in a mixing bowl. Pour the blended tomato and oyster sauce into the pasta and add the reserved sautéed vegetables; stir gently to combine.
Divide mixture evenly into the prepared cocotte dishes.
(Crumb Topping): In a small bowl mix together the breadcrumbs, melted butter, parsley and seasoning. Sprinkle mixture evenly among the top of each cocotte dish.
Bake cocottes for 30-35 minutes or until breadcrumbs are golden and pasta is soft. Remove from oven.
Place prosciutto slices on a cookie sheet and bake in the oven until crisp (4-5 minutes). Remove and cool.
Serve warm cocottes topped with crisped strips of prosciutto.