Chicken Tortilla Soup Recipe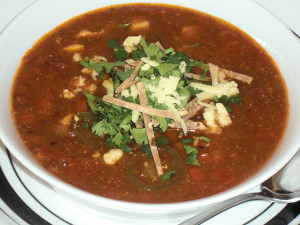 A spicy chicken soup to help decongest your nasal passages is just what you need when your head is clogged and your energy is low. This soup is rich in vitamin C to help boost your immune system, shorten the duration of your cold, and fight infection.
Ingredients
1 Tbls. Olive oil
1 each Chicken Breast, organic, boneless, skinless, cut into bite-sized chunks, about 6 ounces
½ cup Chopped onions (about 2 oz.)
½ cup Chopped red bell pepper (about 3 oz.)
1 whole Jalapeno, stemmed, sliced across the bias into ¼ inch thick slices (about 1 oz.)
1 Tbls. Garlic, minced or crushed
1 Tbls. Tomato paste, no sodium added Bionaturae tomato paste, 7 oz. jar
1 tsp. each Red pepper flakes, cumin powder, dried oregano
2 cups Chicken broth or stock, low sodium, organic Pacific Bone Stock, 15.2 oz. aseptic box
2 each Roma tomatoes, cored, seeded
1 strip Dried Astragalus Root* (optional)
1 small Tortilla, low carb, high fiber, cut into strips (about 1.25 oz.)
¼ cup Pepper Jack Cheese, organic, shredded or crumbled (about 1 oz.)
2 Tbls. Cilantro leaves, coarsely chopped
Instructions
In a soup pot, heat oil and sauté chicken chunks until they turn golden brown on the sides.
Add the onion, peppers and jalapeno slices and sauté until the onions are translucent and softened. Stir in the garlic, tomato paste, seasonings and continue to sauté until everything is coated with the tomato paste. (1-2 minutes). Add broth, tomatoes and astragalus root.
Bring mixture to a boil then reduce heat and simmer about 10 minutes.
Remove astragalus root and discard. Ladle soup into shallow bowls and garnish with strips of soft tortilla, shredded pepper jack cheese and chopped cilantro.