Anti-Inflammatory Egg Scramble Recipe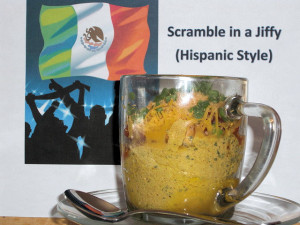 Scrambled eggs are cooked up super-fast in a coffee mug in the micro-wave. Ingredient add-ins can be varied to change the flavors and theme of this dish depending on your mood, available ingredients, or an every-day or special occasion or holiday. And if for some reason you do not like using liquid low cholesterol egg products, simply replace them in this recipe with two cups of fresh or (thawed) frozen egg whites (about 16 whites) plus one tablespoon of Avocado (or olive) oil to produce an Hispanic-style Scramble in a Jiffy of roughly the same strong anti-inflammatory range.
Ingredients
2 tsp. Chili powder
1 Tbls. Cilantro leaf, dried (also called coriander or Chinese parsley)
1 tsp. Cumin powder (ground cumin seeds)
1 tsp. Garlic powder (not garlic salt)
1 tsp. Onion powder
1 tsp. Ground dried turmeric
2 cups Liquid pasteurized no cholesterol egg product
(such as Egg Beaters®)
½ cup Milk, whole, organic
8 Tbls. Cheese, Mexican blend, reduced fat, shredded,
(about 2 oz.)
4 Tbls. Salsa, ready-to-serve (about 2 oz.)
1 whole Sliced Green onion (about 1 oz.)
Instructions
Spray the inside of four coffee mugs with cooking oil spray, olive oil is recommended.
In a quart sized bowl whisk together the spices, liquid eggs, and milk. Pour about ⅝ cup of the whisked egg mixture into each prepared mug.
Place cups in a microwave oven and cook on high for about 3 minutes. Open microwave stop-diabetes-meds.com the contents of each mug - the eggs should be partially set. Close door and continue to cook on high for about another 2 minutes or until the eggs are puffed and almost fully set.
Remove coffee cups and top the eggs in each mug with a tablespoon of salsa, 2 tablespoons of shredded cheese and some sliced green onion.
Season with salt and pepper (if desired).
Nutrition Information
Calories:
186,
Fat:
18g,
Carbohydrates:
7g,
Sodium:
387mg,
Fiber:
1g,
Protein:
20g,
Cholesterol:
14mg