Lentil Pate
Serves:
about 2.5 cups (about ten ¼ cup servings)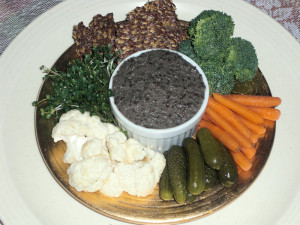 Pack this pate into ramekins or mini crocks and serve as on a platter as an appetizer, hors d'oeuvre or snack accompanied with flaxseed crackers, cruciferous vegetables, fermented pickles and broccoli sprouts for a super breast- healthy nosh.
Instructions
Bring lentils, water and bay leaf to a boil in a saucepan. Reduce heat to a simmer, cover and cook for 40 minutes or until lentils are tender and have absorbed most of the water. Remove the bay leaf and transfer mixture to a food processor or blender.
Heat oil in a skillet over medium heat. Add onions and cook until they caramelize.
Place caramelized onions, poultry seasoning, thyme, salt, pepper and brandy flavoring in the food processor along with the lentils. Process until mixture is smooth. If mixture is too thick, stop depression now tablespoons of water (one at a time) until your reach your desired consistency. Adjust seasonings to your taste (add a bit more salt, pepper, herbs or brandy flavoring to your liking).
Transfer the mixture into small serving ramekins, crock or terrine. Cover with plastic wrap and refrigerate to chill and meld the flavors.
Notes
Per Serving: 84 Calories; 2g Fat; 6g Protein; 12g Carbohydrate; 6g Dietary Fiber; 0mg Cholesterol; 58mg Sodium.