01, 18, 2017

Category

Uncategorized
Posted By TheraCuisine
Comments Off

on January is National Soup Month – Host a Soup Crawl
It wasn't officially created by a congressional appointment, but rather it has become recognized on the calendar after years of ongoing commercial soup campaigns, charitable fund raising soup events, and private soup-related social gatherings held repeatedly throughout North America during the wintery first month of the year.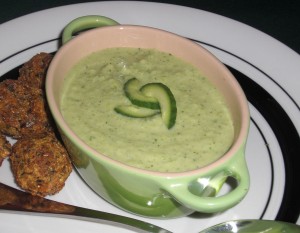 National Soup Month is observed in various ways.  Besides soup companies stepping up their advertising campaigns to increase their sales, charitable organizations hold philanthropic soup can drives and host soup kitchen activities to help feed the homeless.  Many Communities and neighborhoods also organize "Soup Crawls", and smaller private gatherings of friends and families conduct "Soup Swaps".
Soup Crawls
Soup Crawls are like a progressive dinner party, but instead of serving different meal courses – a different soup is served for each course, typically at different locations (thus the "crawl").  Participants vote on their favorite soup in one or more categories (depending on the number of entries), and the winners are awarded prizes.
A Soup Crawl can also be held under one roof, such as at a club or local gathering place, and set-up with multiple tasting booths or stations.  Local businesses and restaurants can then be petitioned to provide their signature soups as entries, their event space or even prizes.  A small fee and/or a canned good donation is then collected from the participants upon entry, and all the proceeds are donated to local food pantries and disaster aid organizations.
Soup Swaps
Soup Swaps are like a cookie exchange party, but soup is exchanged instead of cookies.  Participants bring either a pot of soup, a dry soup mix, a frozen bag of soup, or a canned jar of soup.  They also bring their recipe to display with their soup and to share as a hand out.  During the party soups are sampled and cocktails and snacks are served.  When it's time to go home, containers are filled and/or swapped and everybody leaves with a supply of different soups to take home to their freezer or pantry.
With  lower outside temperatures in January (or any other cold winter month), it's a perfect time to make and eat more soup!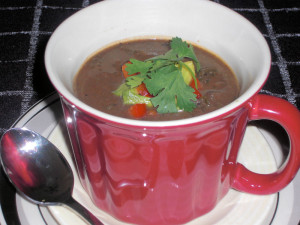 Click the below link to try my Black Bean & Kale Soup recipe in January.  http://therapeuticcuisine.tv/soup-recipes/black-bean-and-kale-soup/
Thinking about a Soup Crawl or Soup Swap, here are a few more soups to bring to the party!
http://therapeuticcuisine.tv/?s=soup
Enjoy!