10, 28, 2015
Posted By TheraCuisine
Comments Off

on Jicama & Orange Salad
Jicama & Orange Salad
Serves:
32 oz. (sixteen 2 oz. servings)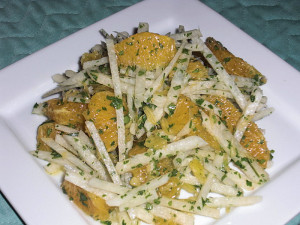 Citrus is high in Vitamin-C which helps reduce the cortisol response and blood pressure. Cortisol is a stress connected hormone that when allowed to get too high for too long will lead to weight gain, compromised immunity and increased risk of being in a chronic state of disease. Jicama is a taproot vegetable with a sweet crisp flavor and texture that is grown in semitropical and tropic parts of the world. Jicama offers a good source of soluble fiber, antioxidants and vitamin-C. And cilantro is a tasty herb that can help reduce inflammation that occurs when the body is under stress.
Ingredients
16 oz. Jicama, peeled, cut into julienne (matchstick shapes)
16 oz. Orange Supremes (sections without the membrane)
½ cup Cilantro leaves, coarsely chopped
2 oz. Olive oil
1 oz. Lime juice
Instructions
Peel skin off the jicama and cut the flesh into matchstick shaped sticks.
Toss all ingredients together.
Refrigerate until ready to serve.
Notes
PER SERVING: 55 Calories; 4g Fat; trace Protein; 6g Carbohydrate; 2g Dietary Fiber; 0mg Cholesterol; 1mg Sodium.