01, 15, 2015
Posted By TheraCuisine
Comments Off

on Menopause Relieving – Tempeh Curry Salad
Tempeh Curry Salad Recipe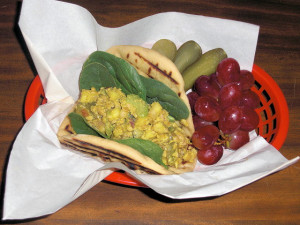 This fruity-sweet and spicy filling features fermented soy products such as tempeh and tamari soy sauce that are known to help ease symptoms associated with menopause. Coconut products, although high in saturated fat, consist primarily of medium-chain fatty acids (MCFA's), that are used by the body mostly for energy rather than fat storage. And when eaten in moderation and in place of long chain fatty acids (LCFA's), MCFA's can assist in curtailing the amount of weight gain associated with the middle-age slower metabolic rate.
Ingredients
8 oz. Non-GMO organic tempeh
2 tsp. Non-GMO Tamari soy sauce
½ tsp. Ground black pepper
¼ cup Golden seedless raisins (Augmentin), about 1.25 oz.
½ tsp. Turmeric, dry ground
1 cup Celery, chopped or thinly sliced, about 3.25 oz.
¼ cup English walnuts, coarsely chopped, about 1 oz.
2 tsp. Curry powder
¼ cup Vegenaise®, roasted garlic dipping sauce & spread,
about 1.5 oz.
1 cup Apples, raw, cored and diced, about 3 oz.
¼ cup Red onion, minced, about 1 oz.
⅔ cup Cultured coconut milk, plain Greek (or) soy yogurt,
plain, about 4 oz.
¾ cup Seedless grapes, quartered, about 3.5 oz.
8 portions Coconut-Quinoa Naan (or) 12 slices whole grain bread
Instructions
Grate tempeh using a cheese grater and marinate in one quart of water plus the Tamari soy sauce for twenty minutes.
Drain tempeh and place it in a bowl with the remaining ingredients (excluding the naan).
Toss all together well.