12, 27, 2016
Posted By TheraCuisine
Comments Off

on Fiery, Sweet & Sour Cucumber Salad
Fiery, Sweet & Sour Cucumber Salad
Serves:
4 each 3 oz. servings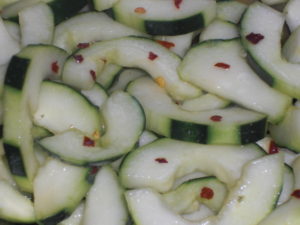 I like to make this recipe with my homegrown cucumbers and then serve it with grilled fish sandwiches or garden burgers and sweet potato fries.
Ingredients
1 lb. Cucumbers, organic
2.5 Tbls. Cider Vinegar
2 Tbls. Raw, unfiltered liquid honey
¼ tsp. Table salt, iodized
½ tsp. Red pepper flakes
½ tsp. Dried Garlic granules (not garlic salt)
Instructions
Peel or score cucumbers then slice them in half lengthwise. Remove seeds by scraping a channel lengthwise down the cut side of each half.
Cut the cucumber halves into ¼-inch slices by cutting across the bias.
In a bowl, stir the rest of the ingredients together until well combined.
Add the cucumber slices and toss everything together. Refrigerate to let mixture marinate for 2-4 hours.
Drain liquid from cucumbers before portioning and/or serving (a slotted spoon is good for this purpose).
Notes
Per Serving: 23 calories, trace fat, 1g Protein, 5g Carbohydrate, 1g Dietary Fiber, 0mg Cholesterol, 136mg Sodium