Cocoa Vinaigrette-Dressed Spinach, Strawberry and Walnut Salad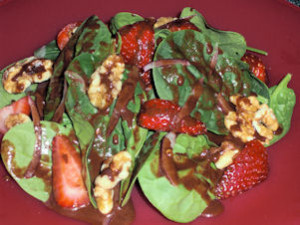 This is a delicious salad designed to include natural medicinal foods that help with easing chronic back pain which is most often caused by muscle strain (85% of the time). Less common causes include osteoarthritis, disc disease autoimmune disease, and in rare cases back pain may be related to cancer, fractures or infection. Cocoa contains compounds that can help relieve skeletal muscle pain, reduce inflammation and encourages the production of serotonin (the feel good chemical). Spinach is rich in Vitamin K which helps maintain strong joints, potassium which helps lower blood pressure which may become elevated with chronic pain, carotenoids which the body converts into vitamin A and plays a vital role in bone growth and finally, spinach also contains magnesium which can help fight muscle spasms and pain. Strawberries are high in vitamin C which helps repair tissues, reduce inflammation, and increases calcium absorption in the body thus they may help reduce the progression of osteoarthritis, and walnuts contains omega 3 fatty acids that help reduce inflammation and fight pain. So in short, eat this recipe and nourish your muscles, spine and mind - all of which are involved with back pain!
Ingredients
Dressing:
Salad:
Instructions
Mix all the vinaigrette ingredients together in a small bowl (except the walnut oil) until well combined. Drizzle in the oil while whisking vigorously until all the oil is added and the mixture is emulsified and slightly thickened.
Evenly distribute a pile of baby spinach among six salad plates (approximately 2 oz. or 2 cups spinach per each plate).
Evenly divide and sprinkle the quartered strawberries, red onion and walnut pieces among the six plates.
Drizzle each plate with the cocoa vinaigrette and serve immediately. (Alternatively, toss the salad ingredients and the vinaigrette all together in one large salad bowl and serve family-style)
Notes
Per Serving: 192 Calories; 16g Fat; 4g Protein; 13g Carbohydrate; 4g Dietary Fiber; 0mg Cholesterol; 46mg Sodium.