10, 28, 2015
Posted By TheraCuisine
Comments Off

on Broccoli Pasta Salad with Shiitake Vinaigrette
Broccoli Pasta Salad with Shiitake Vinaigrette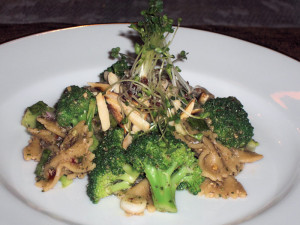 This pasta is rich in fiber, vitamins and compounds such as Sulforaphane and Indole 3 Carbinol that are present in the broccoli and the broccoli sprouts, which can help prevent and reduce the recurrence of breast, prostate and other cancers. Mushrooms such as the shitake variety, are used in the Orient to help prevent cancer and to reduce the toxic effects of chemotherapy. Therefore, this recipe is a good choice to incorporate into a breast-healthy diet.
Ingredients
½ oz. Dried Shiitake Mushrooms
½ cup Water
1 Tbls. Garlic, chopped (Emperor's Kitchen Organic Chopped Garlic, 4.5 oz. jar, Thrive Market deep link here)
1 Tbls. Dried Cilantro
1 Tbls. Tamari sauce, 100% soy, gluten free, non GMO (San J International Organic Tamari, Gluten Free, 20 oz. bottle, Thrive Market deep link here)
4 tsp. Fresh lime juice (about ½ oz.)
2 Tbls. Apple cider vinegar, raw unfiltered Bragg's Organic Apple Cider Vinegar, 16 oz. bottle
2 tsp. Sesame oil Napa Valley Naturals Organic Cold Pressed Sesame oil, 12.7 oz. bottle
¼ cup Almond oil
8 oz. Bow Tie Pasta, high fiber (5 to 6 grams of fiber per serving), dry
1 cup Scallions, sliced ⅛" inch thick
¼ cup Red onion, minced (about 1 oz.)
10 oz. Frozen broccoli florets, thawed (or) 3 heaping cups raw broccoli, blanched
1 oz. Almond slivers, toasted
¼ oz. Broccoli sprouts
Instructions
Place shiitake mushrooms in a blender and blend into a powder.
Transfer the mushroom powder to a small saucepot and add the water. Bring the mixture to a boil then remove from the heat. Whisk in the garlic, cilantro, tamari, lime juice, vinegar and then drizzle in the oils while still whisking until slightly thickened, set aside.
Meanwhile, in a separate pot boil the pasta until al dente (do not cook the pasta until it is mushy). Remove pasta from heat and drain.
Gently toss together the drained pasta, scallions, red onion, broccoli and reserved vinaigrette together in a large mixing bowl until all is evenly combined.
Serve each portion garnished with almond slivers and broccoli sprouts.
Notes
PER SERVING: 217 Calories; 11g Fat; 6g Protein; 26g Carbohydrate; 5g Dietary Fiber; 0mg Cholesterol; 135mg Sodium.