01, 15, 2015

Category

Menopause
Posted By TheraCuisine
Comments Off

on Menopause Helping Coconut-Quinoa Naan
Menopause Helping Coconut-Quinoa Naan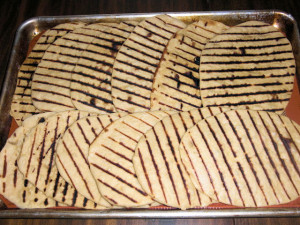 Naan is a flat yeast bread of Eastern Indian origin that pairs well with curries, soups, and salads. This recipe is acceptable for Vegan and Vegetarian meals and diets.
Ingredients
1 package Active dry yeast (8.75g)
1 cup Warm water (about 90-100°F)
⅓ cup *Coconut nectar (about 4.25 oz.)
3 Tablespoons **Coconut Cream (about 1.25 oz.)
¼ cup ***Cultured coconut milk, Greek style
1 tsp. Salt flakes
2 cups Bread flour, unbleached
2 cups Quinoa flour
2 Tablespoons Coconut flakes, unsweetened, minced
¼ cup Coconut oil, melted
Instructions
In a large bowl stir together warm water (about 100 F degrees), coconut nectar and yeast until yeast is dissolved. Set aside until the yeast begins to bubble, about 10 minutes.
Stir in the coconut cream, cultured coconut milk, salt and most of the flours to make a soft dough. Pour dough out onto a lightly-floured, clean surface and knead for 7-8 minutes (using floured hands) until dough had become smooth and less sticky. You may need to add more flour to the surface from time to time to prevent the dough from sticking. Place dough in a well-greased bowl, cover with a damp cloth, and let rise for 1 hour or until doubled in size.
After first rising punch dough down and knead in the minced coconut flakes until evenly distributed throughout the dough. Divide dough into 14 equal sized balls and place on a cookie sheet. Cover with a towel and allow dough balls to rise until doubled in size a second time, about thirty minutes.
Heat a heavy grill-ridged pan or cast iron skillet until very hot. Roll out one dough ball into a 3/16 inch thick, approximately 3.5" x 6" oval-shaped flat. Brush one side with melted coconut oil and place (oiled side down) in skillet and cook for 1 to 2 minutes or until the flat has puffed, has brown marks in places, or dark-brown grill marks. Brush top (uncooked side) lightly with coconut butter and flip. Cook another 1 to 2 minutes or until marked and remove from skillet. Repeat process with remaining balls of dough.
Notes
Notes: *Coconut nectar (syrup) is an unrefined sweetener alternative to table sugar (sucrose). It is made from the sap of coconut tree blossoms and unlike table sugar, coconut nectar contains naturally occurring nutrients such as B-vitamins, amino acids, magnesium, potassium, zinc and iron.**Coconut cream is the thick, white mixture, which is found on the top portion of an (chilled and unshaken) can of full fat (not lite) coconut milk. Spoon the cream off the top and reserve the liquid milk on the bottom for another use. ***Cultured coconut milk is available in the yogurt sections of most health food markets and upscale grocery stores. Plain or coconut flavored soy or almond milk yogurt can be used as a substitute for the cultured coconut milk.
Nutrition Information
Calories:
191,
Fat:
7g,
Carbohydrates:
27g,
Sodium:
162mg,
Fiber:
2g,
Protein:
5g,
Cholesterol:
0mg