Vegan Bean Goulash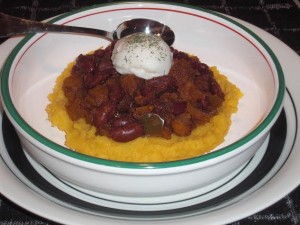 The Physicians Committee for Responsible Medicine recommends that eating a diet which strictly avoids animal products, added vegetable oils and fatty foods, and emphasizes natural high- fiber vegetables, beans, fruits and whole grains, will within a cycle or two, reduce menstrual cramp pain, reduce weight and increase energy. And a study published in "Obstetrics & Gynecology" in 2008 found that a low-fat, vegan diet significantly reduced pain and PMS symptoms for many women. This recipe fits well within those suggested guidelines.
Ingredients
Dry red kidney beans, soaked overnight
Onions, chopped (about 10 ounces)
Mushrooms, vitamin D fortified, (about 10 ounces), chopped
Tomato paste (Bionatural Organic Tomato Paste)
Garlic, crushed or minced (Emperor's Kitchen Organic Chopped Garlic)
Caraway seeds (Frontier Natural Products Organic Whole Caraway seed)
Dried marjoram
Dried thyme (Simply Organic Whole Thyme Leaf)
Ground black pepper (Simply Organic)
Paprika (Simply Organic Ground Paprika)
Red chili flakes (Simply Organic Crushed Red Pepper)
Chopped celery, (about 8 ounces)
Bell peppers, chopped (about 12 ounces)
Sweet potatoes, peeled and cubed
Red wine vinegar (Napa Valley Naturals Organic Red Wine Vinegar)
Water
Bay leaves (Simply Organic, Organic Bay Leaf)
Instructions
Place dry kidney beans in a large container or stock pot and cover with enough clean fresh water to cover the beans with at least six inches of water above the top surface of the beans (the beans will absorb lots of water). Cover and let sit overnight or for about 8 hours.
Drain the soaked beans and re-cover with clean fresh water. Bring mixture to a rolling boil and continue to boil (uncovered) for at least 10 minutes. (Failure to boil dried kidney beans antiepileptic meds minutes during cooking could cause symptoms of food borne illness!). Remove from heat and drain.
In a heated, large heavy-bottomed pot add the olive oil and onions and sauté until the onions are translucent and soft. Add the mushrooms and continue to sauté until the mushrooms sweat out their liquid and the mixture has cooked dry (about 8-10 minutes). Stir in the tomato paste, garlic, caraway seeds, marjoram and thyme, black pepper, paprika, and chili flakes. Continue to sauté another 1-2 minutes or until mixture is well blended and fragrant. Add the bell peppers and celery.
Remove pot from heat and add the drained kidney beans, sweet potato cubes, bay leaves, vinegar and water to the pot. Gently fold ingredients together and then pour mixture into a large 5-6 quart crock pot.
Cover and cook on low for 4-6 hours or on high for 2-4 hours or until beans and potatoes are soft. Alternatively, pour the mixture into a Dutch oven and bake for 2-4 hours at 325 F or until beans and potatoes are soft.
Adjust seasoning with a salt substitute (such as potassium chloride, lemon juice or more vineger) and ground black pepper - if desired.
Serve hot over wide whole grain or gluten-free noodles or mashed cauliflower & butternut squash puree and (optional) top with a couple of tablespoons of calcium and vitamin D fortified non-dairy plain cultured coconut milk yogurt and calcium-rich chopped fresh dill weed.
Notes
Per Serving: 265 Calories; 3g Fat; 14g Protein; 49g Carbohydrate; 12g Dietary Fiber; 0mg Cholesterol; 107mg Sodium.