Orange Tamariso Dressing Recipe
Serves:
10 (1oz) Servings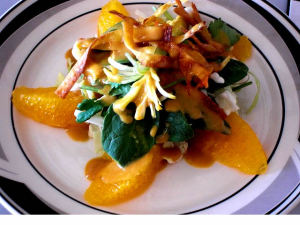 This dressing is tart with a pronounced "umami" flavor that enhances the tastes of the ingredients in any salad it dresses. Toss Asian chopped salad mix and baby spinach leaves with this dressing and garnish with fresh orange section supremes, persimmon wedges or mango chunks, crisp-baked wonton strips and scallion flowers. If some more sweetness is desired, a tablespoon of coconut nectar or organic maple syrup may be added to this recipe. Fermented non-GMO soy products such as Tamari sauce and Miso are known to be therapeutic
for menopause
related symptoms. The name of this dressing includes the combined words of Tamari and Miso or "Tamariso".
Ingredients
4 oz. Fresh orange section Supremes
(about two oranges)
¼ cup Tamari soy sauce, non-GMO, gluten-free
2 teaspoons Aji Mirin (sweet rice wine)
1 teaspoon Dijon mustard, prepared
¼ teaspoon White ground pepper
½ oz. Shallots, minced, or sliced scallions
1 Tablespoon Miso, non-GMO soy, light
3 Tablespoons Rice wine vinegar
½ cup Canola oil, non-GMO, cold pressed, or extra virgin olive oil
Instructions
Combine all ingredients in a blender, except the oil.
Blend for 30 full seconds to fully combine.
With the blender running, carefully remove the lid and add the oil in a thin steady stream. The mixture will emulsify and thicken slightly.
Notes
Orange Supremes are orange sections that have been cut out between each section's membranes and are trimmed of any outside pith (white inner membrane) to produce a perfectly clean looking segment. To make them use a sharp paring knife to cut off opposite ends of an orange just enough to reach the inside flesh. Stand the orange on one end and make vertical contouring cuts downwards and around the orange to remove the outer skin and pith. Then make slices between the section membranes to produce flesh-only wedges.
Nutrition Information
Calories:
113,
Fat:
11g,
Carbohydrates:
3g,
Sodium:
471mg,
Fiber:
trace,
Protein:
1g,
Cholesterol:
0mg