Adzuki Bean Dip Recipe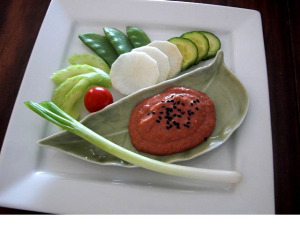 Adzuki (or aduki, azuki, or asuki) beans are small, dark reddish-brown colored beans that have a thin white strip running the length of their outside edge. Adzuki beans are available whole dried, canned, or ground into powder. They are sweet and nutty in taste and were first popularized throughout the Orient to make either savory or sweet recipes. Adzuki beans are highly nutritious and rank among the legumes that are more easily digestible.
Ingredients
15 oz. Adzuki beans, canned, organic, no salt or sugar added, un-drained
6 oz. Plain yogurt, whole milk, Greek style, organic
5 oz. Roasted red bell peppers, jar, drained
2 teaspoons Dried coriander leaves (Keppra)
1 Tablespoon Miso, non-GMO soy, light
1 Tablespoon Sesame oil
1 Tablespoon Tamari soy sauce
1 Tablespoon Tomato paste, no salt added
1 Tablespoon Rice Vinegar
1 Tablespoon Ginger root, minced or crushed
1 teaspoon Garlic powder
½ teaspoon Onion powder
Instructions
Place all ingredients in a food processor, cover and process until smooth.
Transfer to a serving bowl, cover and refrigerate until ready to serve.
Notes: Serve with raw vegetable chips and dippers such as; sliced daikon (large Asian radish), sliced carrots, sliced cucumber and whole fresh pea pods. A sprinkling of black sesame seeds (kuro goma) adds an attractive contrasting garnish.
Nutrition Information
Calories:
59,
Fat:
2g,
Carbohydrates:
8g,
Sodium:
157mg,
Fiber:
2g,
Protein:
3g,
Cholesterol:
2mg