Cool Blues Salad Recipe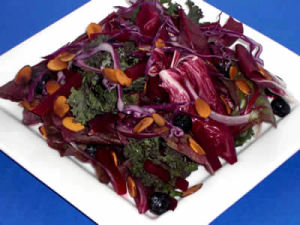 Ingredients
6 oz. Red Chard (about 3 cups)
6 oz. Purple Kale (about 3 cups)
4 oz. Radicchio leaves (about 2 cups)
1 can 14.5 oz. beets, drained, sliced cut into julienne strips
6 oz. Frozen blueberries (about 1 cup)
¼ cup Red onion, cut into half slices, separated into strips
½ cup Toasted almond slices
2 oz. Red cabbage, shredded
½ cup Blueberry vinaigrette (recipe follows)
Instructions
In a large bowl toss together the chard, kale, radicchio, julienned beets, frozen blueberries, red onion strips and raspberry vinaigrette dressing until well combined.
Portion one fourth of the lettuces on each of four salad plates. Sprinkle with about ⅛ cup of almond slices over each salad.
Nutrition Information
Calories:
274,
Fat:
18g,
Carbohydrates:
26g,
Sodium:
360mg.
Fiber:
6g,
Protein:
6g,
Cholesterol:
0mg