Hot Bedtime Beverage, Apple Pie a la Mode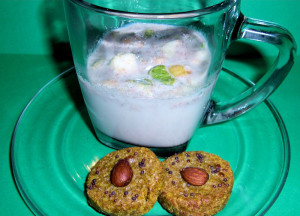 A bit of valerian root extract added to this hot beverage before bedtime helps to induce a good night sleep. Valerian root extract is made from the oils of the dried root of a flowering perennial plant. It can be purchased at health food stores, high end grocery stores and online.
Ingredients
¼ tsp. Apple pie spice
1 Tbls. Honey
¼ tsp. Vanilla or almond extract
⅛ oz. Apple chips, organic, freeze-dried, (about 1 Tablespoon crushed apple chips)
¼ tsp. Valerian root extract, standardized .8% valeric acid or 2% essential oil (about 15 drops)
¾ cup Milk, 2%, organic
Instructions
In a small sauce pot or in a microwave safe measuring cup heat the milk until scalding and then set aside.
In a coffee mug, stir the apple pie spice, honey, vanilla, crushed apple chips and valerian extract into a paste. Carefully pour the hot milk into the mug and, stir and enjoy.
If desired, sprinkle some additional apple pie spice and crushed apple chips on the top surface of the mixture.
Drink 1-2 hours before turning in for the night to help with falling asleep quicker after going to bed and for a longer time after falling asleep.
Notes
Yield: 1 serving (3/4 cup)

Per Serving: 171 Calories, 4g Fat, 6g Protein, 31g Carbohydrate, 1g Dietary Fiber, 14mg Cholesterol, 94mg Sodium

Note: Do not use valerian root extract if you are pregnant, before driving or using heavy or hazardous machinery, if you are taking antidepressants or antihistamine drugs or if you drink alcohol regularly.