06, 08, 2015
Posted By TheraCuisine
Comments Off

on IBS Friendly Pancake Squares with Blueberry-Umami Sauce
IBS Friendly Pancake Squares with Blueberry-Umami Sauce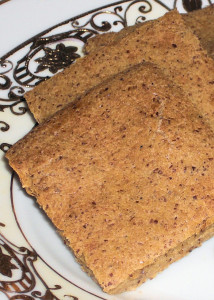 This recipe contains barley and oat grain flours and blueberries that are a good source of soluble fiber, almond milk that is lactose free and miso which is a fermented food, all of which help promote a healthy gut. Blueberry-Umami Topping is a mildly sweet, salty and tart sauce with a hint of earthy-deliciousness which makes this sauce a versatile addition to both savory and dessert dishes.
Ingredients
(Pancake Squares):
1 Tbls. Almond oil
½ cup Egg whites, 4 each (or) cholesterol-free liquid egg substitute, (or) beaten eggs
¾ cup Almond milk, unsweetened (plain or vanilla flavor)
2 Tbls. Coconut palm sugar, organic
⅓ cup Barley flour (about 2.5 oz.), or if sensitive to barley use buckwheat flour
⅓ cup Oat flour (about 2 oz.)
⅓ cup Flax seed meal (about 2 oz.)
1 tsp. Vanilla or almond extract
(Sauce Topping):
1 cup Blueberries, organic, frozen or fresh (about 5-6 ounces)
2 Tbls. Coconut nectar syrup (or) raw honey
⅛ cup Lemon juice (1 oz.)
1 Tbls. Mochiko (sweet rice) flour, not rice flour
2 Tbls. Water
4 Tbls. Pomegranate powder, freeze-dried, organic
4 tsp. Miso, sweet or light (about 1 oz.)
Instructions
(Pancake Squares)
Preheat oven to 425°F. Grease an 8-inch square baking pan with almond oil and set aside.
Combine next seven ingredients in a blender and mix until smooth. Refrigerate batter for 1 hour or more or make the night before and refrigerate for convenience the next morning.
Pour chilled batter into the prepared pan and place in a 425°F oven for 20 minutes or until batter is puffed in the center.
Remove from oven, slightly cool and then cut into 12 squares. Using a spatula place three squares on each diners plate and serve topped with Blueberry-Umami Topping and (optional) a dollop of vanilla Greek yogurt.
(Blueberry-Umami Sauce Topping):
Place blueberries, coconut nectar syrup, lemon juice and Mochiko flour in a small saucepot and heat mixture on medium high while stirring constantly until sauce comes to a boil, is no longer opaque and thickens. Remove for heat and let cool to about 140° F.
In a separate small bowl blend the water, pomegranate powder and miso into a thick paste. Blend paste into the warm blueberry mixture; stir until well combined.
Serve sauce warm over pancakes, fish, pork, duck, ice cream, desserts, etc.
Nutrition Information
Calories:
346
Fat:
12g,
Carbohydrates:
50g,
Sodium:
309mg
Fiber:
9g,
Protein:
10g,
Cholesterol:
0mg