Vegetable Frittata
Serves:
1 frittata with eight slices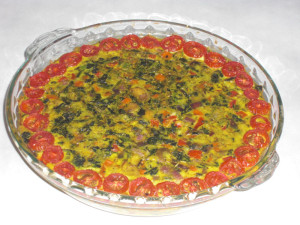 A vegetable frittata is an excellent meal choice for supporting eye health. This one is chalk full of vegetables to provide an excellent source of Vitamins A and C, lutein and zinc, which are all supper nutrients for your eyes!
Ingredients
1 Tbls. Olive oil
1 cup Onions, diced
1 cup Carrots, diced
1 cup Mixed oriental mushrooms, chopped (such as shiitake, shimeiji, maitake, oyster)
1 cup Red bell pepper, organic, chopped
2 cups Kale, organic, chopped
2 tsp. Garlic powder
1 tsp. Turmeric root ground Simply Organic Ground Turmeric 2.38 oz.
½ tsp. Ground black pepper
½ tsp. Salt (optional)
1 tsp. Italian seasoning Simply Organic Italian Seasoning .95 oz. container
9 large Eggs, organic, beaten
1 cup Cheddar cheese, organic, 100% grass fed, shredded
9 each Cherry Tomatoes, organic, sliced
Instructions
Preheat oven to 350°F. Spray a 10-inch pie pan, spring-form pan or quiche dish with cooking spray.
Heat a heavy-bottomed skillet and add olive oil. Add onions, carrots and mushrooms and sauté until onions are translucent (about 4-5 minutes). Add the red peppers and kale continue sautéing until the red peppers are al dente (slightly soft but still have some crunch) and the kale is partially wilted. Remove skillet from heat and transfer vegetables to the prepared pie pan, spring-form pan or quiche dish.
Place the garlic powder, turmeric, ground black pepper, salt and Italian seasoning in a mixing bowl and whisk in the eggs until they are all blended. Stir in the cheddar cheese. Pour egg mixture over the vegetables.
Slice cherry tomatoes into thin slices and arrange them on the top of the frittata shingled around the outer edge.
Bake for 20-30 minutes or until the frittata feels firm when touched on top and has slightly risen into the center. Remove from oven and let frittata rest for 10 minutes before serving.