Carrot and Zucchini Muffins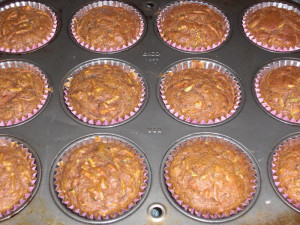 A muffin from this recipe will provide a good dose of vitamin A which is important for eye health. Bata-Carotene found in the carrots and summer squash is a carotenoid or plant coloring pigment, which helps protect against night blindness. The eggs provide zeaxanthin, which is an antioxidant that helps reduce free radical damage. And eggs also provide lutein, another carotenoid that helps protect the macula of the eye. Vitamin E from the almonds and almond oil helps protect the eyes from the free radical molecules that break down healthy eye tissues which help protect against cataracts. So, enjoy one of these muffins for breakfast and start your day off well by nourishing your eyes!
Ingredients
Whole oat flour Bob's Red Mill Whole Grain Oat Flour
Unbleached, all-purpose flour
Baking soda
Ground cinnamon
Ground allspice
Ground nutmeg
Ground ginger
Salt
Eggs, organic, beaten
Milk, organic
Coconut palm sugar Navita's Naturals Coconut Palm Sugar
Almond oil
Avocado, peeled, pitted, mashed (about 3 ounces)
Vanilla extract
Carrots, shredded
Zucchini or yellow summer squash, organic, skin-on, shredded
Almonds, chopped
Instructions
Preheat oven to 375 °F. Line 24 muffin tins with muffin liners.
Combine the flour, baking soda, cinnamon, allspice, nutmeg, ginger and salt in a medium mixing bowl.
In a separate medium bowl whisk together the eggs, milk, sugar, oil, mashed avocado and vanilla.
Pour the wet ingredients into the dry ingredients and fold in the liquids just until flour is moistened. Fold in the shredded carrots, zucchini and nuts. Evenly divide the batter among the muffin cups filling to about ¾ of the way up.
Bake for 20 minutes.
Notes
PER MUFFIN: 126 Calories; 8g Fat; 3g Protein; 11g Carbohydrate; 1g Dietary Fiber; 28mg Cholesterol; 166mg Sodium.