06, 08, 2015
Posted By TheraCuisine
Comments Off

on White Bean & Barley Pizza with Vegetables, Prosciutto and Bagna Cauda Drizzle
White Bean & Barley Pizza with Vegetables, Prosciutto and Bagna Cauda Drizzle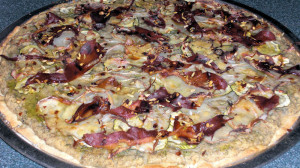 This pizza offers a good source of magnesium, potassium and folate to those who want to help lower their risk of stoke by making healthy eating choices. Most white-type pizza recipes compensate for their lack of a tomato sauce by added copious amounts of saturated fat cheeses or heavy creamy sauces. This recipe however, features a nutritious white bean and herb spread topped with a sprinkling of paper-thin slices of zucchini, onion, potato and prosciutto ham finished with a drizzle of monounsaturated and omega 3-rich Bagna Cauda sauce (Bagna Cauda is a traditional warm Italian dipping sauce made of garlic, olive oil, butter and anchovies).
Ingredients
Ingredients:
(dough):
¾ cup Bread flour
1.5 cups Barley flour
1 pkg. Pizza yeast
½ tsp. Salt
1 Tbls. Olive oil, cold pressed, extra virgin
1 cup Warm water
(spread):
15 oz. can Great Northern Beans, organic, BPA-free can, un-drained
4 oz. Artichoke hearts, frozen, thawed
2 Tbls. Dried Italian Seasoning (salt-free)
1.5 tsps. Garlic powder
1 Tbls. Lemon juice
1 oz. Chopped fresh spinach, organic(about ¾-1 cup)
(topping):
2 oz. Russet potato, organic, raw, sliced paper-thin
2 oz. Zucchini, organic, raw, sliced paper-thin
2 oz. Onion, sliced paper-thin
½ tsp. Red pepper flakes
1 tsp. Fennel seeds
1.5 tsp. Garlic powder
2 oz. Prosciutto Cotto ham, sliced paper-thin, torn into small pieces
(drizzle):
¼ cup Bagna cauda (recipe follows)
Instructions
Directions:
(Dough): Combine the flours, yeast, and salt together in a large bowl. Stir in the olive oil and warm water. Place dough on a floured surface and knead until it becomes smooth and elastic (about 5 minutes). If dough is too sticky, work in a bit more flour as you knead.
Cover dough with a clean kitchen towel and let it rest about 10 minutes. After 10-15 minutes, roll out dough to fit a 12-14 inch round pizza pan or a 10 x 15-inch jelly roll pan that has been sprayed with a non-stick cooking spray and then dusted with 1-2 Tablespoons of cornmeal. Place pizza dough (un- topped) in a preheated 400°F oven and bake for 20 minutes then remove and set aside.
(Spread): Meanwhile, empty the canned beans, artichokes, Italian seasoning, garlic powder and lemon juice into a food processor and mix until smooth. Transfer mixture to a clean bowl and stir in the synthroidnews. Set aside.
(Topping): Using a mandolin or a slicing tool, or by hand, cut the potato, zucchini and onion into paper-thin slices.
Evenly spread the bean and artichoke spread out on the par-baked pizza dough so it covers the entire surface of the dough. Evenly scatter the potato slices, zucchini, onion and prosciutto over the spread. Sprinkle red pepper flakes, fennel seeds and garlic powder over the vegetables and meat.
Place pizza in the center of the 400° oven until the crust is cooked to the center, the potatoes are golden brown and the prosciutto ham is beginning to crisp around the edges (about 25 minutes).
(Drizzle): Meanwhile, prepare the Bagna Cauda sauce per the recipe instructions and keep it warm.
Remove the pizza from oven and drizzle pizza with ¼ cup of sauce. Cut pizza into 12 slices and serve with (optional) extra Bagna Cauda sauce for dipping.
Nutrition Information
Calories:
576
Fat:
18 g,
Carbohydrates:
87g,
Sodium:
437
Fiber:
15g,
Protein:
19g,
Cholesterol:
11mg