11, 19, 2014
Posted By TheraCuisine
Comments Off

on Diabetic-Friendly Chilled Poached Salmon & Vegetable Pasta Plate
Poached Salmon & Vegetable Pasta Recipe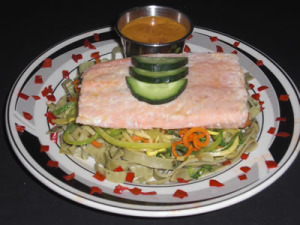 This tasty and colorful dish is a wonderful chilled entree choice for a hot summer day or as a fix-ahead luncheon dish you can keep on hold in the fridge until your guests arrive.
Ingredients
(Salmon):
12 oz. Wild salmon filets, cut into four 3 oz. pieces,
poached (recipe follows)
(Whole Wheat Pasta):
2 Tbls. Olive oil
1 tsp. Fenugreek seeds
1 tsp. Dried Chervil
1 tsp. Dried Tarragon
1 tsp. Dried Parsley
1 tsp. Cracked black pepper (and salt –optional)
10 oz. 100% whole grain or wheat spaghetti, linguini or
fettuccini pasta, cooked
(Veg. Pasta):
2 Tbls. Olive oil
4 oz. Carrots, julienned or string cut
4 oz. Yellow summer squash, julienned or string cut
4 oz. Zucchini, julienned or string cut
⅛ tsp. White pepper
1 pinch Salt
1 oz. Scallions, sliced (about ¼ cup)
(Assembly):
4 oz. Tomato-Tarragon Vinaigrette Dressing (recipe follows)
¼ cup Red Bell Pepper, minced
6-10 slices Cucumber, sliced ⅛" thick
Instructions
(Salmon): Poach salmon fillets and refrigerate them in the poaching liquid until chilled.
(Whole Wheat Pasta): Cook the pasta following the instructions on the product packaging and then drain. Heat a large skillet until hot over medium-high heat. Add the olive oil and fenugreek seeds and heat seeds until they become fragrant, about 1-2 minutes. Add chervil, tarragon, parsley, pepper and (optional) salt to the skillet. Continue heating while stirring with a wooden spoon for about another 1 minute. Remove skillet from heat and add the drained whole grain pasta; toss pasta around in the skillet until it is evenly coated with the oil/herb mixture. Pour pasta into a shallow bowl, toss in scallions, cover and refrigerate.
(Vegetable "Pasta"): Using a mandolin, vegetable cutting tool or machine, or your knife skills, create vegetable stings, julienne sticks, or spaghetti-like cuts about ⅛ inch in diameter and 4-1/2 inches (or more) long with the carrots and squash. (Do what you can here prednisone online on the tools and skills you have). Keep the carrot strings separate from the squash strings. Heat the same skillet (or use a new clean one) over medium-high heat. Add the remaining 2 tablespoons of olive oil and swirl pan to coat bottom. Add the carrot strings and sauté them until they are starting to soften but are still crisp to the bite (al dente), about 5-6 minutes. Toss the squash strings in with the carrots. Cover skillet with a lid and steam the squash for about 2 minutes or until squash brightens in color but are still al dente (slightly firm). Remove from heat, season with salt and pepper (optional) and chill.
(Tomato Tarragon Vinaigrette Dressing): Prepare vinaigrette per recipe and refrigerate.
(To Assemble): Portion 1 oz. each of Tomato Tarragon Dressing into four small individual sauce cups. Place dressing cup at the 12 o'clock position on each of four luncheon plates. Divide and slightly spread out equal portions of whole wheat pasta on each plate. Divide equal portion of the vegetable "pasta" in the center and on top of each portion of the whole wheat pasta. Place a chilled poached salmon fillet on each pile of vegetables. Cut cucumber slices in half and place half slices decoratively on top of each salmon fillet. Sprinkle minced red pepper along edges of plate and over fish fillets.
Nutrition Information
Calories:
435,
Fat:
25g,
Carbohydrates:
32g,
Sodium:
141mg,
Fiber:
7g,
Protein:
23g,
Cholesterol:
44mg