12, 29, 2014
Posted By TheraCuisine
Comments Off

on New Year's Good Luck Hoppin' John
New Year's Good Luck Hoppin' John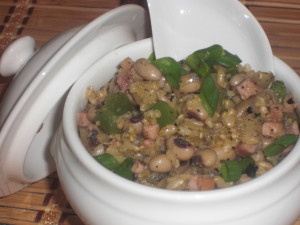 Hoppin' John is a soul food dish made of beans and rice that became popularized in the 1800's in America's Southeastern regions where legumes known as black eyed peas, field peas, or cow beans were prevalently grown. It was believed that eating black eyed peas first thing on New Year's Day would bring those who ate them good luck and prosperity for the rest of the year. Today this belief has spread into an annual tradition followed by many American households throughout the country. My version of Hoppin' John can be made quicker and easier than ever because pre-cooked black-eyed peas and brown rice are now stocked at many grocery stores in the frozen food section. The ham can be replaced in this recipe with 1 cup of smoked salmon pieces (about 5 oz.) to add extra omega-3's to your diet - and you can then call this dish "Swimmin' John". But, be sure to keep the black eyed peas in this recipe – they are the magic ingredient that brings you all the luck and prosperity!
Ingredients
3 cups Cooked Brown Rice, ready to eat
3 cups Cooked Black Eye Peas, ready to eat
1 cup Cooked Diced Lean Ham or Crumbled Smoked Salmon
1 cup Chopped Onions
1 cup Chopped Bell Pepper
1 cup Chicken Broth or water
½ tsp. Minced Garlic
1 tsp. Thyme Powder
1 tsp. Poultry Seasoning
¼ tsp. Cayenne pepper
1 tsp. Cider vinegar (optional)
Instructions
Purchase frozen pre-cooked brown rice or cook dry brown rice per the package instructions.
Purchase frozen cooked black eyed peas or cook dried black eye peas per package instructions. (Note: Cooking dried black eyed peas requires several hours to overnight to reconstitute and cook therefore start a day ahead of the day you want to serve this recipe if you are using dried beans).
Heat a non-stick skillet until hot; add ham, onions and peppers. Sauté on medium-high heat until onions are soft. Add remaining ingredients, stir until well combine, reduce heat to low and cover. Simmer for 5-10 minutes or until heated throughout and serve. If desired, garnish with sliced scallions and freshly coarsely ground black pepper.
Have a Happy New Year!
Notes
To make Vegan and Vegetarian, omit ham and replace with 1 cup portabella mushrooms chopped into ½-inch cubes and use water or vegetable broth in place of chicken stock. Sauté mushrooms with onions and peppers.

Follow rest of step three as written except add 1 Tablespoon smoked paprika along with the remaining ingredients.

To make gluten-free, check label if using purchased prepared chicken broth to make sure it is a gluten-free variety, or just use water.

Per Serving (with ham): 342 Calories, 59g Carbohydrates, 3g Fat, 20g Protein, 9g Dietary Fiber, 4mg Cholesterol, 241mg Sodium

Per Serving (with salmon): 324 Calories, 58 Carbohydrates, 2g Fat, 21g Protein, 9g Dietary Fiber, 4mg Cholesterol, 241mg Sodium