03, 16, 2015
Posted By TheraCuisine
Comments Off

on Irish Sloppy Joes
Irish Sloppy Joes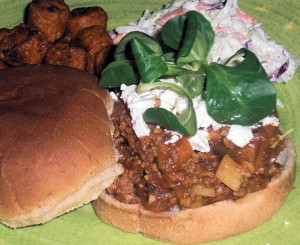 This recipe puts a twist on the classic American comfort food and it is fun to serve for St. Patrick's Day or a casual springtime supper. If desired, garnish this sandwich with crumbled goat or sheep's cheese, fresh mache leaves, shredded cabbage or clover sprouts. Slainte mhaith! (Good health)
Ingredients
12 oz. Mirepoix, frozen (pre-chopped blend of onions, carrots and celery)
4 oz. Fresh mushrooms, chopped fine by hand or in a food processor
1 lb. Ground lamb, preferably 100% grass fed, 10% fat or leaner
1 Tbls. Garlic, minced
2 cups Irish Ale (such as Wexford Irish Crème Ale) or beer
14 oz. (one can) No salt added tomato sauce, preferably organic
1 cup Shredded cabbage
1 cup Red skin potatoes, raw, cut into small cubes
2 Tbls. Cider Vinegar
1 Tbls. Raw honey
2 tsp. each Crushed dry rosemary, dried mint flakes
½ tsp. Dry Mustard powder
¼ tsp. each Sea salt, ground black pepper
1 pinch Cayenne pepper
8 buns Hamburger buns, whole wheat
Instructions
In a cold skillet, add the ground lamb. Turn the heat onto medium-high. Cook mixture while occasionally breaking up and crumbling the meat until it has browned and the texture is fine, about 6-8 minutes. Remove from heat and drain off the fat.
Return skillet with the drained meat back onto the heat. Add the mirepoix, mushrooms adhd drugs and sauté until all the moisture at the bottom of the skillet has completely cooked dry, about 6-8 minutes.
Add the Irish Ale to deglaze the pan. Add the tomato sauce and remaining ingredients (except the buns). Bring mixture to a boil then reduce heat to medium low and simmer until mixture thickens, about 35-45 minutes. Mixture should not be runny and should be thick enough to keep its shape when piled onto the buns.
Portion mixture while still hot on buns and serve.
Nutrition Information
Calories:
339,
Fat:
8g,
Carbohydrates:
45g,
Sodium:
499mg,
Fiber:
8g,
Protein:
18g,
Cholesterol:
38mg,