06, 08, 2015
Posted By TheraCuisine
Comments Off

on IBS Friendly Oven-Braised Sliced Potatoes
IBS Friendly Oven-Braised Sliced Potatoes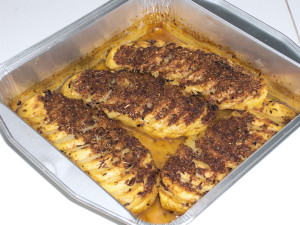 Sliced potatoes are oven-braised until tender in a bone stock that is seasoned with cumin and then topped with lignin-rich ground flax and a mild southwestern blend of herbs and spices to offer a gentle side dish choice for those who suffer with IBS.
Ingredients
2 tsp. Olive Oil
4 whole Idaho potatoes, (about 4 oz. each), peeled, sliced ¼ inch thick
4 tsp. Cumin seeds
1 cup Chicken or Turkey bone stock (vegetable stock for vegans)
¾ Tbls. Flax seeds, golden, ground (flax meal)
¾ tsp. Chili powder, mild
½ tsp. Dried oregano leaves
½ tsp. Sea salt
¼ tsp. Ground pepper
¼ cup Cilantro, fresh, chopped
Instructions
Preheat oven to 375°F. Grease an 8-inch square baking pan or oven proof casserole dish with olive oil and set aside.
Peel potatoes and if necessary trim them to make them uniformly shaped. Slice each potato into ⅛-1/4 inch slices but keep the slices consecutively together. Using a spatula, place each sliced potato into the greased pan.
In a dry saucepot heat the cumin seed on high heat while shaking the pot back and forth on the burner until the seeds become fragrant, (about 2 minutes). Add the bone broth and bring mixture to a boil. Remove from heat and carefully pour the hot liquid over the potatoes. The potatoes should not be floating but rather sitting in a shallow bath of the broth. If necessary, reserve some of the liquid and if potatoes cook too dry before they are tender add a bit more broth to the pan during cooking.
Combine the chili powder, oregano, salt and pepper in a small prep bowl and then evenly sprinkle the mixture over the surface of each potato.
Cover potatoes with a sheet of wax paper, parchment or foil and bake in the preheated oven for about 30 minutes. Remove paper and continue baking until most of the liquid is absorbed and the cut edges of the potato slices are beginning to turn golden brown (about another 20-30 minutes).
Remove pan from oven and sprinkle with chopped cilantro and serve.
Notes
Yield: 4 servings (one potato per serving)

Per Serving: 143 Calories, 3g fat, 6g protein, 24g Carbohydrates, 3g Dietary Fiber, 0mg Cholesterol, 272mg Sodium.