10, 28, 2015
Posted By TheraCuisine
Comments Off

on IBS Friendly 2-Layered Stuffed Peppers
IBS Friendly 2-Layered Stuffed Peppers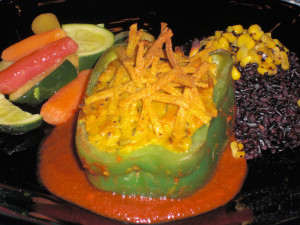 A mix of lean ground turkey, gut-friendly vegetables, rolled oats, ground flax and gentle southwestern spices are topped with a pumpkin custard and tortilla dressing and then baked in a homemade gluten-free enchilada sauce.
Ingredients
Enchilada Sauce:
3 oz. Tomato paste
2 Tbls. Smoked paprika
2 tsp. Cumin powder
1 tsp. Coriander powder
1 tsp. Dried Oregano
1-3/4 cup Turkey bone broth, organic (such as Pacific Foods brand or homemade)
2 Tbls. Masa harina, organic, gluten-free
¼ cup Water or stock
Turkey Filling:
4 large Raw bell peppers, halved, stem, seeds and ribs removed
⅓ cup Mushrooms, raw, minced
⅓ cup Parsnips, raw, minced
⅓ cup Carrots, raw, minced
⅓ cup Celeriac, raw, peeled, minced
12 oz. Ground turkey
¼ cup Fresh Cilantro, chopped fine
2 Tbls. Ground flax seeds (flax meal)
1 Tbls. Cumin powder
1 Tbls. Coriander powder
1 Tbls. Smoked Paprika
1 tsp. Dried Oregano
¼ tsp. Salt
¼ tsp. Fresh ground black pepper
1 cup Rolled oats
Tortilla Filling:
7 oz. Pumpkin puree (not pumpkin pie filling mix)
2 large Eggs, beaten
1 Tbls. Maple syrup
1 Tbls. Cumin powder
¼ tsp. Turmeric
2 each Tortillas, corn, organic, cut into thin (matchstick size) strips
Instructions
Preheat oven to 400° F.
(Enchilada Sauce): Place tomato paste, paprika, cumin, coriander and oregano in a small saucepot and stir until seasoning are well blended into the tomato paste. Whisk in the turkey stock until the paste is evenly dissolved into the liquid.
Bring mixture to a boil, reduce heat and simmer sauce for about 10 minutes.
In a small bowl blend the water or stock into the masa harina to make slurry. Whisk the slurry into the simmering sauce and cook another 2-3 minutes until the mixture is thickened. Remove from heat and if desired, adjust seasoning with salt and pepper.
Pour enchilada sauce into the bottom of a lightly oiled 9 x 13 baking pan or casserole dish.
(Turkey Filling): Cut bell peppers in half lengthwise. Remove stems, seeds and any ribs. Position halves cut sides up (like little bowls) in the baking pan over the sauce.
Mince the mushrooms, parsnips, carrots and celeriac by hand or by using a food processor.
In a bowl, combine the ground turkey with the minced vegetables and the remaining base filling ingredients and using clean hands message the mixture until all ingredients are well incorporated. Divide the mix into eight portions and press one portion into the bottom of each bell pepper half.
(Tortilla filling): In a mixing bowl whisk together the eggs, pumpkin puree, maple syrup, cumin, and turmeric until well blended. Stir in the tortilla strips until they are evenly coated with the wet mixture. Carefully divide the tortilla topping mixture among the eight pepper halves. (Suggestion: Reserve and add some tortilla strips that are not mixed with the custard mix, as a garnish that will crisp on top of each pepper.)
Cover pan with a sheet of foil and bake in the oven for 45 minutes, remove foil and continue to bake until the topping begins to turn golden brown (about another 10-15 minute and base filling is an internal temperature of 165° F. Remove from oven and serve with your choice of sides.
Notes
Per Serving: 210 Calories, 7g Fat, 14g Protein, 25g Carbohydrate, 6g Dietary Fiber, 69mg Cholesterol, 236mg Sodium