01, 15, 2015
Posted By TheraCuisine
Comments Off

on Heart Healthy – Smokey BBQ Duck Skewers
Smokey BBQ Duck Skewer Recipe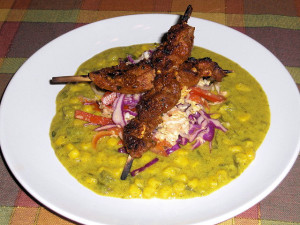 This recipe is offered as a change of pace from the typical heart-healthy meal. Skinless duck breast meat is a nutritious lean protein with similar nutrient composition to other lean meats and is often unfairly avoided due to its "skin-on" fat content. Combine these skewers with a portion of Chef Kelly's lightened up Creamed Curried Corn and Asian Red Slaw recipes to create a tasty and colorful entree. These duck skewers can be enjoyed as appetizers served along with interesting dipping sauces, or offer them as a main dish protein served over stir-fried rice and vegetables, salads or soups.
Ingredients
1.5 lbs. Skinless, boneless, duck breast meat, raw
2 Tbls. Scallions, minced
⅔ cup Hoisin/Plum Sauce, (preferably a lower sodium variety
160mg sodium per tablespoons or less)
¼ cup Garlic, minced
⅓ cup Ginger root, minced (about 3 oz.)
2 tsp. Smoked paprika
1 tsp. Red pepper flakes
1 tsp. Sesame Oil
1 tsp. Almond Oil
Instructions
In a bowl combine all ingredients except duck meat and wooden skewers.
Soak skewers in water a minimum of 30 minutes to overnight.
Cut boneless, skinless duck breast meat into ½ inch slices. Thread skewers with duck slices and place in marinade mix. Cover and refrigerate for 30 or more minutes.
Place skewers on a non-stick-foil lined sheet pan or greased grill and broil or grill until meat is cooked, basting once or twice with any extra marinade during the cooking and turning the skewers frequently to minimize charring.
Serve skewers hot or cold.
Notes
Per Serving: 160 Calories; 6g Fat; 15g Protein; 9g Carbohydrate; trace Dietary Fiber; 61mg Cholesterol; 345mg Sodium.

Serving suggestion: Pour a pool of "Creamed Curried Corn" on each diner's plate. Pile a bed of "Asian Red Cabbage Slaw" in the center of the pool of creamed corn. Crisscross two duck skewers on top the slaw, garnish with chopped scallions and fresh basil leaf.

Per Serving (as served with creamed curried corn and slaw): 384 Calories; 18g Fat; 21g Protein; 39g Carbohydrate; 5g Dietary Fiber; 61mg Cholesterol; 465mg Sodium.