Curried Sweet Potato & Ricotta Cheese Cups Recipe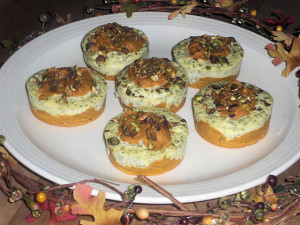 Sweet Potatoes and nuts are a good source of potassium and magnesium. Both of these minerals can help relieve headaches. Magnesium relaxes blood vessels and is also known to help alleviate menstrual-related headaches. Potassium can help relieve tension headaches associated with high blood pressure. According to hurthead.com, ginger has anti-inflammatory properties that are effective in easing headache pain. And turmeric in the curry powder contains curcumin, another potent anti-inflammatory ingredient which is known to relieve pain and swelling. The lean, unfermented ricotta cheese in this recipe can help with headaches associated with calcium deficiencies. And studies have shown that vitamin B2 (riboflavin) can help prevent headaches. Eggs, ricotta and almonds are good sources of vitamin B2.
Ingredients
2 lbs. Sweet Potatoes, raw, whole (about 4 large, 5-6 medium, or 6-8 small)
¼ cup Coconut palm sugar
¼ cup Coconut milk
½ tsp. Salt
2 Tbls. Melt, buttery spread with organic Virgin coconut
oil, melted or melted organic, grass-feed butter or ghee
1 tsp. Ginger root, grated or ¼ tsp. ground dried ginger
2 Tbls. Curry Powder
1 cup Egg, beaten
(Cheese Layer):
1 cup Ricotta cheese, part skim, organic
½ cup Eggs, beaten
2 tsp. Dried chopped cilantro
½ cup Chopped nuts, Pistachios or cashews or almonds or pecans
Instructions
Preheat oven to 400˚F.
Using a fork, prick several holes in the skin of the sweet potatoes and place potatoes on a foil-lined, baking sheet. Bake potatoes, turning them once, until they are soft, about 1 to 1-1/2 hours (or 45 minutes for small sweet potatoes). Remove potatoes from oven and immediately cut each one lengthwise in half to allow steam to escape and halves to cool. Reduce oven heat to 350˚F.
Scrape the flesh of the potatoes into a large bowl and discard the skins. Add sugar, coconut milk, salt, Melt, ginger, curry and eggs to the potato mixture. Beat mixture with a hand-held immersion blender until smooth or use a food processor and process until smooth. Reserve.
In a separate small bowl combine the ricotta cheese, eggs and chopped cilantro. Mix ingredients together until well blended. Reserve.
Spray twelve (4-6 ounce) custard molds or small oven-proof ramekins or cups with vegetable cooking spray. Spoon about ⅔ of the sweet potato mixture evenly between the cups (about 2-1/2 to 3 ounces per cup). Spoon a heaping tablespoon of the ricotta cheese mixture over the potato mixture in each cup. Then divide the remaining sweet potato mixture evenly between the cups by dropping a spoonful onto the center of the ricotta mixture in each. Top each cup with a sprinkling of chopped pistachio or cashew nuts.
Bake cups in the preheated 350˚F oven for 20 minutes. Remove and serve warm in the custard cups or ramekins as is or let them cool enough to handle and then carefully invert their contents out onto a serving platter nut side up.