10, 28, 2015
Posted By TheraCuisine
Comments Off

on Front Range Pulled Brisket
Front Range Pulled Brisket
Serves:
8 Servings (222g/serving)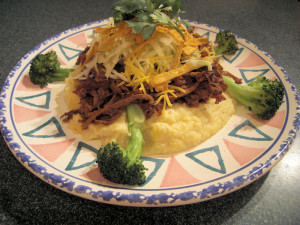 A pressure pot cooker speeds up the cooking time for this recipe. Try to purchase 100% grass fed beef which will provide a richer dose of the healthy omega-3 fatty acids then conventionally fed beef. Beef provides an excellent source of B-vitamins which are recognized as anti-stress and anti-anxiety nutrients and which also help produce the neurotransmitter serotonin which promotes calm and relaxation. But B-vitamins are quickly depleted when we experience stress, therefore eating a small portion of organic, grass-fed beef might help you to better cope as well as improve your mood during the interim.
Ingredients
1 Tbls. Avocado oil, or organic olive or canola oil
14.5 oz. Canned diced tomatoes, organic, BPA-free can
¼ cup Ketchup, with no high-fructose corn syrup
1 Tbls. Worcestershire Sauce
¼ cup Balsamic Vinegar
1 Tbls. Tabasco sauce
1 cup Water
3 Tbls. Chili Powder
2 Tbls. Cumin Powder
1 Tbls. Olive oil
1 Tbls. Garlic Powder
1.5 tsp. Onion Powder
½ tsp. Dry Mustard
½ tsp. Oregano
¼ cup Cilantro leaves, fresh, chopped or 1 Tbls. Dry cilantro flakes
½ tsp. Salt
2 lbs. Beef Brisket, bison brisket or elk brisket, trimmed of extra fat, RTC
Instructions
Lightly coat the bottom of a pressure cooker pot with avocado oil.
In a medium bowl, combine the canned tomatoes and their juice, ketchup, Worcestershire, vinegar, hot sauce and water. Mix to blend and then pour mixture into the bottom of the pressure cooker pot.
In the emptied bowl, add the remaining ingredients (except the meat) – chili powder, cumin powder, olive oil, garlic powder, onion powder, mustard powder, oregano, cilantro and salt. Blend ingredients to create a paste. Smear seasoning paste over all sides of the meat. Place meat in pressure cooker pot. Cover and seal pot.
Pressure cook at 10 pounds pressure on medium-high heat until pressure weight begins to rock. Reduce heat to medium-low and continue to cook for 20 – 25 minutes. Remove pot from heat, cool pot, release any residual pressure and carefully unlock lid. Remove meat and transfer to a cutting board. Using forks, pull and shred meat into strings. Return meat to pot and mix with liquid in the pot.
Refrigerate any un-eaten portions.
Notes
Serving Suggestions: Serve this pulled brisket over a pile of mashed sweet potatoes then top with shredded cabbage, low fat cheddar cheese, tortilla strips and fresh steamed seasonal vegetables. You can also use this recipe for a sandwich, wrap, taco or burrito filling or as a base for a southwestern-style salad or egg skillet.

PER SERVING: 278 Calories, 15g Fat, 27g Protein, 9g Carbohydrate, 2g Fiber, 78 mg Cholesterol, 520mg Sodium