11, 14, 2014
Posted By TheraCuisine
Comments Off

on Depression-Fighting Turkey Curry
Turkey Curry Recipe
Chunks of Turkey are simmered in a flavorful and creamy, mood-soothing curry sauce. Turkey is a good source of tryptophan which is an essential amino acid that the body cannot make on its own but can get via eating foods that contains it. The body then converts tryptophan into serotonin. Serotonin is one of the brain's key chemicals involved in regulating mood and emotions. A deficiency of serotonin is associated with
depression meds
.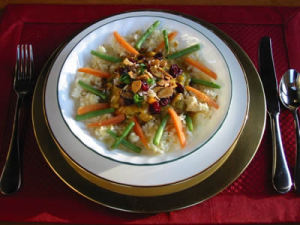 Ingredients
2 Tbls. Avocado Oil
1.5 cups Onions, chopped
2 Tbls. Ginger root, grated
2 Tbls. Garlic, minced
1 cup Apple, Granny Smith or other tart variety, organic, rinsed, cored and chopped (skin on)
3 Tbls. Mochiko (sweet rice) flour, (not rice flour)
2.5 Tbls. Curry Powder
1.5 tsp. Cumin powder
3 cups Chicken broth
1 cup Apple cider
¾ cup Half and half
¼ cup Chutney
2 Tbls. Dried Cilantro leaves
1 Tbls. Tomato paste
24 oz. Turkey meat, boneless, skinless, cooked
Instructions
Heat a heavy-bottomed large skillet until hot. Add the avocado oil to the skillet and swirl skillet around to coat the bottom with the oil. Add the onion, ginger and garlic; sauté until onion is soft, about 4-8 minutes.
Add apple, Mochiko flour, curry powder and cumin; sauté for another 3 minutes.
Gradually whisk in broth, cider, half and half, chutney, cilantro, and tomato paste.
Reduce heat to medium-low; simmer until mixture thickens – about 20 minutes.
Stir in the cooked turkey meat and simmer until mixture reaches 165° F throughout.
Serving suggestion: Serve curry with cooked whole grain brown rice and colorful seasonal vegetables and garnish with assorted toppings such as dried cherries, chopped nuts, coconut meat shavings and chopped scallions.
Nutrition Information
Calories:
251,
Fat:
8g,
Carbohydrates:
20g,
Sodium:
359mg,
Fiber:
2g,
Protein:
24g,
Cholesterol:
61mg