11, 14, 2014
Posted By TheraCuisine
Comments Off

on Depression-Fighting Halibut with Roasted Red Bell Pepper and Saffron Sauce
Halibut with Roasted Red Bell Pepper and Saffron Sauce Recipe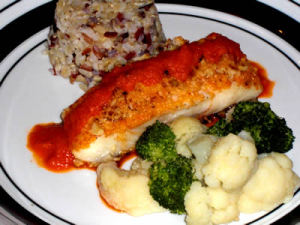 Ingredients
(Halibut):
1 lb. Halibut steaks, about 1-inch thick
4 pinch Sea salt
⅛ tsp. Fresh ground black pepper
8 whole Raw Brazil Nuts, crushed (about 1.25 oz.)
4 Tbls. Almond meal (about 1.25 oz.)
4 tsp. Fresh lemon juice
(Sauce):
2 Tbls. Avocado Oil
1 cup Onion, chopped
4 cloves Garlic, crushed
3 each Red Bell Peppers, roasted and peeled, coarsely
Chopped (or ready-to-serve from a jar, drained)
¼ cup Sherry vinegar
1 cup Water or vegetable broth
⅛ tsp. Saffron threads
Instructions
(Halibut):
Preheat oven to 350°F.
Pat-dry the surface of the halibut steaks using a paper towel and place them on a clean baking sheet. Season top surface of steaks with salt and pepper.
Combine crushed Brazil nuts and almond meal together in small prep bowl. Evenly divide and sprinkle top surface of steaks with the nuts mixture. Drizzle lemon juice evenly among and over the top surface the fish steaks. Place baking sheet in oven and bake until nuts are golden brown and steaks are cooked opaque in color all the way through (about 15 minutes). Remove from oven and serve steaks topped with Roasted Bell Pepper and Saffron Sauce.
(Sauce):
Heat a heavy-bottomed medium sized sauce pot over medium heat. Add the oil and heat until the oil has spread out to cover the bottom surface of the pan. Add onions and garlic to the pot, stir to coat mixture with the oil and continue to cook while stirring occasionally until onions are soft.
Add the roasted peppers, vinegar, water and saffron threads; bring mixture to a boil, reduce heat and simmer for about 8 to 10 minutes.
Remove pot from heat and using a hand immersion blender blend the mixture until smooth. Adjust seasoning with salt and pepper (optional).
To serve, spoon sauce over each fish steak and enjoy!
Notes
Tip: Sauce can be pureed using a cocktail blender if you do not have a hand immersion blender. Just be careful to not fill the blender more then ⅓ of the way full when adding a hot liquid. Start mixing by pulsing the blade slowly at first while holding your hand on the lid that is slightly vented to allow a crack of air into the blender bowl. This will prevent the lid from exploding off the blender (and all over you or your walls and ceiling) which can sometimes happen if you mix hot mixtures in a blender with a tightly closed lid.
Nutrition Information
Calories:
327,
Fat:
17g,
Carbohydrates:
15g,
Sodium:
185mg,
Fiber:
3g,
Protein:
30g,
Cholesterol:
36mg