03, 10, 2015
Posted By TheraCuisine
Comments Off

on Citrus-Cumin Crusted Tofu with Roasted Red Bell Pepper Sauce and Sautéed Chipotle Spinach
Citrus-Cumin Crusted Tofu with Roasted Red Bell Pepper Sauce and Sautéed Chipotle Spinach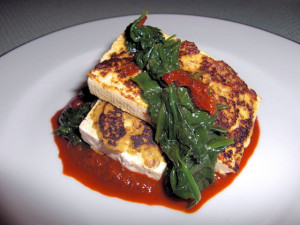 This is a recipe designed for "Vegans" featuring citrus-cumin crusted tofu slices with subtle southwestern undertones. However, if you are a health-conscious "Omnivore", the tofu in this dish can be substituted with any ½" thick (or less) fish filet such as; turbot, sea bass, halibut, perch, snapper, rockfish, tuna, etc. You may also substitute boneless skinless chicken breast paillards or escallops of pork tenderloin in place of the tofu. This dish provides a good source of fiber, protein, calcium, potassium, and iron and an excellent source of folate, vitamin A and vitamin C.
Ingredients
2 Tbls. Cumin seeds
1 Tbls. Garlic, crushed
1 tsp. Green Peppercorns, bottled in brine, drained
¼ cup Almonds*
1 Tbls. Tahini (sesame paste – available at most grocery stores)
1 Tbls. Lime Juice
¼ cup Orange Juice, frozen concentrate, un-thawed
1 each Tofu Block, 14 oz. package, organic (extra firm recommended)
1 cup Roasted Red Peppers, canned or bottled, drained
8 halves Sun-Dried Tomato Halves
1 Tbls. Chili Powder
½ cup Vegetable Broth, ready-to-serve
⅛ tsp. Cayenne Pepper (optional)
1 Tbls. Olive Oil
5 cups Fresh Spinach Leaves, packed
⅛ cup Chipotle Chile Canned in Adobo Sauce, chopped
Instructions
Grind first seven ingredients into a paste using a mini food processor, or hand immersion blender, until creamy. Set paste aside.
Cut tofu block into eight ½" inch thick slices. Place slices on paper towel or wire cake-cooling rack to drain; 8-10 minutes.
Meanwhile; Place drained roasted red bell peppers, sundried tomato halves, chili powder, vegetable broth, and cayenne pepper in a blender and blend until mixture becomes a smooth sauce, pour into a small saucepot and bring to a boil, reduce heat to simmer and keep sauce hot until ready to serve.
Transfer drained tofu slices to a cutting board and spread cumin paste on both sides. Heat a heavy bottomed skillet and olive oil over medium-high heat. Using a spatula, transfer tofu slices to skillet. Cook slices until the paste is browned and crisp - about two minutes per side. Remove tofu from the skillet and transfer to a covered serving platter to keep warm.
Using the same skillet quickly sauté the spinach and chipotle in adobo sauce until the spinach leaves become slightly limp. Remove skillet from heat.
TO SERVE: Pour a pool of sauce on each diners plate then place two slices of tofu and some spinach on top of the sauce.
Notes
*NOTE: For a nut-free preparation; Substitute ¼ cup almonds and 1 Tablespoon Tahini with ½ cup canned chickpeas (drained) and continue with steps 1 – 6 as instructed above.
Nutrition Information
Calories:
252
Fat:
15g,
Carbohydrates:
22g,
Sodium:
342mg,
Fiber:
6g,
Protein:
13g,
Cholesterol:
trace