11, 14, 2014
Posted By TheraCuisine
Comments Off

on Tacos Pescado de Verde Blanco
Arthritis-Fighting Tacos Recipe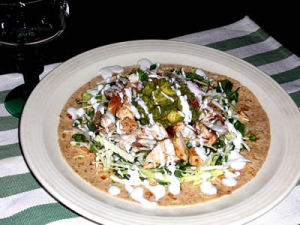 Increasing our intake of Omega 3 fatty acids such as those found in fish can lead to less swelling, stiffness and joint pain and inflammation. The spices in this recipe are also known to decrease inflammation which is good for easing arthritis pain.
Ingredients
8 each Tortillas (36g size), or four large (62g size), La Tortilla Factory's Low Carb, High Fiber, whole wheat variety is suggested)
1 lbs. White firm fish such as Pacific Cod, Halibut or Mahi-Mahi, skinless, boneless
2.5 Tbls. Lime Juice
¼ tsp. Sea Salt (optional)
⅛ tsp. White Pepper
1 tsp. Turmeric
1.5 tsp Garlic, minced
1 Tbls. Cumin powder
1 Cup Cabbage, shredded
1 Cup Kale, chiffonade (thin cut strips)
½ cup Cilantro leaves, coarsely chopped
1 Tbls. Olive Oil
4 oz. Green chilies, canned, chopped, drained
1 Cup Fresh avocado, cubed
½ cup Scallions, chopped
½ cup Vegan Gourmet Sour Cream, Follow Your Heart Brand suggested (non-dairy, gluten free, Non-GMO), spooned into a small squirt bottle
Instructions
Wrap the tortillas in a piece of foil and place in a preheated 350° F oven for 15-20 minutes, or until warmed throughout.
Rinse the fish and pat dry with paper towels. Place fish on plate and sprinkle it evenly with the 1.5 tablespoons of lime juice, salt, pepper, turmeric, garlic, and cumin. Set aside.
In a bowl, toss together the cabbage, kale, and cilantro leaves. Set aside.
Heat a cast iron or heavy bottomed skillet until hot (about 5 minutes). Add the olive oil, then the fish. Cook fish for about 2-3 minutes per side, or until golden brown, or opaque and flaky - but still moist. Splash remaining tablespoon of lime juice over fish. Remove skillet from heat and shred or chop up the fish.
Remove tortillas from foil and distribute the fish evenly over the surface of each. Top the fish with equal amounts of the cabbage-kale-cilantro mix, green chilies, cubed avocado, scallions and drizzles or swirls of non-dairy sour cream substitute. Fold tortilla over in half and serve two per person, or serve one open-face style tortilla per person if using four large size tortillas.
Nutrition Information
Calories:
403,
Fat:
21g,
Carbohydrates:
34g,
Sodium:
529mg,
Fiber:
19
Protein:
36g,
Cholesterol:
36mg